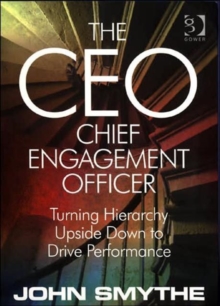 The CEO: Chief Engagement Officer : Turning Hierarchy Upside Down to Drive Performance
Paperback / softback
Description
You may be a senior executive wondering how to engage hundreds or thousands of employees in your vision, strategy or the transformation of the business; or a specialist in HR, communication and change, tasked with the challenge of 'aligning and mobilising' your people.
In either case, you no longer want compliant people, you want individuals who will engage their creativity at work.
For their part, engaged employees want a say in their work and in how the business changes. The Chief Engagement Officer explores a management philosophy which recognises the value of opening up decision making to the right groups to improve the quality of decisions and change, accelerate execution and broaden ownership. John Smythe asks what the concept of engagement means for employer and employee; tests whether and how it is different from internal communication and provides a practical framework for those who want to engage colleagues but need advice based on applied experience. The book includes a tapestry of reports from organisations who are engaging their employees to drive performance and change.
The author demonstrates how powerful models, developed from his work at SmytheDorwardLambert, his time as an organisational fellow with McKinsey and Company, and his consultancy with Engage for Change, can be used to take this process forward in any organisation. The Chief Engagement Officer is a highly readable guide to the revolution that is needed in employee communication and organisational leadership from one of the most experienced and well-regarded experts on employee communication.
Other Formats
EPUB from £35.09
PDF from £35.09
Hardback from £146.85