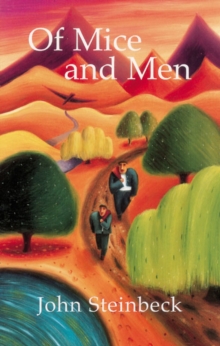 Of Mice and Men (with notes)
Hardback
Description
� Guys like us, that work on ranches, are the loneliest guys in the world.
They got no family. They don� t belong no place ...With us it ain� t like that.We got a future ... because I got you to look after me and you got me to look after you.� George and Lennie are migrant American labourers � the one alert and protective and the other strong, stupid and potentially dangerous.
This is the powerful story of their relationship and their dreams of finding a more stable and less lonely way of life.
This hardback educational edition contains notes to help students' understanding.
Information
Format: Hardback
Pages: 168 pages
Publisher: Pearson Education Limited
Publication Date: 01/06/2000
Category: Classic
ISBN: 9780582461468
Free Home Delivery
on all orders
Pick up orders
from local bookshops
Reviews
Showing 1 - 1 of 1 reviews.
Review by Bridgey
27/08/2015
Of Mice and Men - John Steinbeck *****What was it about?For some reason I have reached my mid thirties without ever reading Of Mice and Men, it bypassed me in school, I have never seen any film adaptation and my only knowledge of the plot was that it was about two friends and one liked rabbits. So I started the book not knowing what was to come and without any expectations. I am always wary reading novels that have been deemed 'classics', very often I find them not very entertaining and the sort of book that people only read because they are either made to, or feel they should. But at around 160 pages I decided to give the book a try. Essentially we follow the story of two friends, George and Lennie, they are two drifters looking for work at various ranch stands across California in the midst of the depression. The two characters are opposites, with one small and quick, the other large and mentally challenged, and yet against many odds their friendship has always managed to survive. Practically inseparable they follow their dream of earning enough money to allow them to buy their own plot of land and become self sufficient. Lennie is really a child trapped inside a man's body, unfortunately for him it is a very powerful vessel and he is not able to judge his own strength, this causes all sorts of issues for the duo and the main reason why they have never been able to settle in one place for any length of time. The novel starts with a new job prospect and another step towards that American dream they both hold onto. As they have done many times they try to settle into normal life, but interference from others once again causes them to face the realisation that maybe it can't all be as simple as they would like. Prejudice, racism, life and death coupled with loneliness, ambition and loyalty allow the reader to understand just how fragile our human existence really can be. Are we any more worthy of life than an old decrepit dog? Do we really control our own destiny?What did I like?The way that Steinbeck crams so many themes into suck a short novel is amazing. This is my first book by him and I am sure it won't be my last. The descriptions are vivid, the characters realistic and you really do find yourself lost in their world. What didn't I like?I really can't think of anything in particular that I can honestly say I disliked. Maybe I would have preferred the novel to have been a little longer, but it certainly was a case of quality over quantity.Would I recommend?Definitely. This is one of those books I wish had discovered much earlier. Even nearly 80 years after its first publication the messages that it conveys are as relevant today as ever.
Also in the Longman Literature Steinbeck series