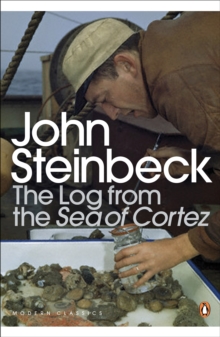 The Log from the Sea of Cortez
Paperback
Description
In 1940 Steinbeck sailed in a sardine boat with his great friend the marine biologist, Ed Ricketts, to collect marine invertebrates from the beaches of the Gulf of California.
The expedition was described by the two men in SEA OF CORTEZ, published in 1941.
The day-to-day story of the trip is told here in the Log, which combines science, philosophy and high-spirited adventure.
Information
Format: Paperback
Pages: 320 pages
Publisher: Penguin Books Ltd
Publication Date: 18/01/2001
Category: Biography: general
ISBN: 9780141186078
Free Home Delivery
on all orders
Pick up orders
from local bookshops
Reviews
Showing 1 - 2 of 2 reviews.
Review by bungo
16/06/2015
Tales of fabulous adventure and marine biology in a Gulf of California which surely doesn't exist any more. Steinbeck's wit and determination to enjoy life shine through this book. But this edition is also great for its appendix: "About Ed Ricketts". What a guy!
Review by chrisblocker
16/06/2015
Each and every summer, I have a tradition of reading a work from my favorite author, John Steinbeck. (In recent years, I've actually been sneaking in two or three works a year; otherwise, it will be another eighteen years before I complete his catalogue of written works.) For this year's read, I settled on my first non-fiction selection from Steinbeck: The Log from the Sea of Cortez.
In 1940, Steinbeck, best-friend Ed Ricketts, and a crew of seamen set off for the Gulf of California to observe, catalog, and collect the marine animals they discovered along the shores. (Steinbeck's wife, Carol, had been along on the voyage as well, but is never mentioned; the fact that the couple divorced shortly after their return may have much to do with her omission). Ricketts was a marine biologist by profession and Steinbeck had a strong interest in the subject.
The resulting book chronicling this six week voyage combines the voices of Steinbeck and Ricketts, although distinguishing the authorship of original thought is improbable: Steinbeck has taken Ricketts' log, combined it with his own ideas and wording, and the conclusion is a work of two very much alike, yet different people.
The book itself is hard to define. It is part scientific journal: during their thirty collecting stations, they find crabs, oysters, worms, sea-cucumbers, nudibranchs, rays, urchins, and much more. And of course the reader is informed of these discoveries, along with any commentaries on the tide, the relationship between species, and any abnormalities. Perhaps it is just my love for Steinbeck, but I did find these collection reports interesting for the first half of the book; eventually, I grew a little tired with them.
The Log is part philosophy: Steinbeck and Ricketts both enjoyed talking about philosophical matters. Interspersed in this log are philosophical thoughts that are explored, and explored, and further explored. While there were some interesting thoughts amongst these "ramblings," they also grew tiresome.
It is part sociology: During their voyage, the crew of The Western Flyer made stops along the coasts and interacted with many of the locals. Some of these interactions are quite humorous while others are depressing. The observations made by Steinbeck, however, are gorgeous, and it is clear to see how his fiction can paint cultures and groups of people so vividly.
It is part Steinbeck: The detailed descriptions, the people, the humor, the insight—it is all very much the same Steinbeck of The Grapes of Wrath, Tortilla Flat, and The Pearl. You find Steinbeck's fictional characters in the likes of Ricketts, Sparky, and Tiny, as well as forgotten villagers, Mexican authorities, and enthusiastic errand boys.
As an added bonus, Steinbeck insisted that the publisher include a short profile about Ed Ricketts. The resulting "About Ed Ricketts," which I believe to be included in most if not all editions, is entertaining and provides further insight into not only Ricketts, but Steinbeck as well.
Oddly, as I walk away from this book, I find a deeper appreciation for a Steinbeck book I read several years ago—Tortilla Flat. While I did enjoy it, it is the one Steinbeck book I have read where I felt the most disappointment. I now realize that this is because I didn't understand the camaraderie and adventure Steinbeck had with his friends, which adds so much to its reading. Having read The Log from the Sea of Cortez, I find a believability and understanding in Tortilla Flat that I lacked in my initial reading, and I look forward to some of Steinbeck's other relatively lighthearted titles.
Also in the Penguin Modern Classics series | View all