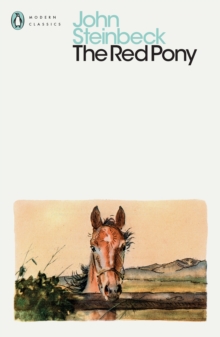 Description
Jody Tiflin has the urge for rebellion, but he also wants to be loved. In THE RED PONY, Jody begins to learn about adulthood - its pain, its responsibilities and its problems - through his acceptance of his father's gifts.
First he is given a red pony, and later he is promised the colt of a bay mare.
Yet both of these gifts bring him tragedy as well as joy, and Jody is taught not only the harsh lessons of life and death, but made painfully aware of the fallibilty of adults.
Information
Format: Paperback
Pages: 128 pages
Publisher: Penguin Books Ltd
Publication Date: 07/09/2000
ISBN: 9780141185095
Other Formats
Paperback from £5.59
EPUB from £3.99
Free Home Delivery
on all orders
Pick up orders
from local bookshops
Reviews
Showing 1 - 1 of 1 reviews.
Review by boppisces
16/06/2015
John Steinbeck's 'The Red Pony' is about ten-year-old Jody Tiflin who is an only child and his journey from childhood to adolescent. 'The Red Pony is a classic story of a boy's initiation into manhood', (Kilpatrick, W., et al., 1994, p. 161). It is divided into four distinct chapters; The Gift (p. 1); The Great Mountains (p. 41); The Promise (p. 61) and The Leader of the People (p. 87).The GiftIn this chapter the characters and setting are introduced to the reader. The main characters include Jody, his father Carl Tiflin, his mother and ranch hand Billy Buck. Carl is stern and at times quite cold while Billy is warm and understanding and spends time teaching Jody about horses. Carl gives Jody a red pony which he names Gabilan after the mountains that surround the ranch. Jody takes very good care of the pony, but just as Billy is about to teach him to ride, the pony is mistakenly left out in the rain and develops a bad cold. He becomes extremely sick and Billy has to cut open a lump of puss and carve a hole in the pony's throat so it can breathe. Unfortunately the pony leaves the barn one night and Jody follows a group of circling buzzards which lead him to the pony's dead body. On finding the pony Jody kills one of the buzzards.The Great MountainsAn old Mexican man, Gitano, appears on the ranch, claiming he was born there and wants to stay until he dies. Carl Tiflin says he can stay one night but must leave the next morning. Jody visits him that night and sees him polishing an old sword and asks him if he has been in the great mountains that so fascinate Jody. The next morning the old man and an old horse of Carl's have gone, Jody assumes, into the mountains.The PromiseCarl and Billy decide Jody should have a colt as he took such good care of the red pony. He is sent with a mare called Nellie to a neighbouring ranch to have her bred. The cost is $5 and Jody has to work hard for his father to pay for the colt. There is unease in Jody's mind that something will go wrong because of the red pony's death which Billy feel responsible for. It is almost a year before Nellie is ready to give birth. Complications lead to Billy killing Nellie and cutting the colt out of her stomach in his desperation not to disappoint Jody again. The Leader of the PeopleA letter comes for Jody's mother, from his grandfather saying that he is coming to visit. Carl is annoyed because he is sick of rehearing stories from him about crossing the Great Plains as the head of a wagon train. Jody goes and meets his grandfather on the road and that night he tells his usual stories. The next morning Jody's father openly complains about him. The grandfather walks in to breakfast, having overheard and Jody's father apologises. Later, as Jody sits with his grandfather on the porch he talks about how he really feels, wondering if it was really worth it to cross the plains and how frustrating it was to be stopped by the ocean. He says that what was important was not crossing the plains, but the act of leading people across it. SummaryThis is not the sort of book that I would normally pick up to read but having read and really enjoyed 'East of Eden' by Steinbeck recently I thought I would try it. I have a vague recollection of seeing the movie on TV when I was much younger and of the pony dying horribly and how sad it was. This didn't appeal to me in any way which is why I hadn't read the book. The cover is quite unappealing and in sepia tones featuring a pony's neck and head. I found the first chapter pretty gruesome and unappealing. Jody has a dysfunctional relationship with his father and Billy sometimes seems more of a father to him even though Jody feels let down by Billy through Gabilan's death. I find Steinbeck's writing richly descriptive, but feel that in this novel nothing is resolved. The chapters feel very disjointed and don't seem to flow. I was confused as to why the colt is born and then not mentioned again in the third chapter. Surely it would be one of the things that Jody would first want to show off to his grandfather. I also found that the ending left me hanging as it was so abrupt and puzzling or perhaps just too deep for me to get!
Also in the Penguin Modern Classics series | View all