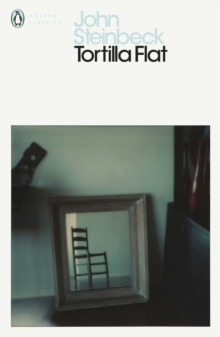 Description
Danny is a paisano, descended from the original Spanish settlers who arrived in Monterey, California, centuries before.
He values friendship above money and possessions, so when he suddenly inherits two houses, Danny is quick to offer shelter to his fellow gentlemen of the road.
Together, their love of freedom and scorn for material things draws them into daring and often hilarious adventures.
That is, until Danny, tiring of his new responsibilities, suddenly disappears...
Information
Format: Paperback
Pages: 192 pages
Publisher: Penguin Books Ltd
Publication Date: 07/09/2000
ISBN: 9780141185118
Free Home Delivery
on all orders
Pick up orders
from local bookshops
Reviews
Showing 1 - 3 of 3 reviews.
Review by rburdock
16/06/2015
Briefly, Danny, the chief protagonist in this novel, returns from the war to Tortilla Flat (a paisano district that sits upon a hillside above Monterey), to find he has inherited two houses. What then follows is a comedic tale that fundamentally can be summed up in 5 words - wine, friendship, food, women and err..wine again :o)<br/><br/>This is the first John Steinbeck novel I've had the pleasure of reading, and quite simply it has left an indelible mark on me. What captivates me in the first instance is the remarkable talent Mr. Steinbeck shows in the quality of his prose. He demonstrates an incredible talent for expressing himself literarily, and in the most poetic way. I could provide endless examples but as an illustration, instead of penning something simple such as "the Pirate used his wheelbarrow to help Danny", Mr. Steinbeck eloquently scribes it as "then borrowing the Pirate's wheelbarrow and the Pirate to push it, Danny..", which, like the most of the sentences in Tortilla Flat, read like silk. <br/><br/>If the quality of Mr. Steinbeck's prose forms one half of the success of Tortilla Flat, then the sublime depth of his characterisation fills the other half. Mr. Steinbeck succeeds at magnificently bringing his characters to life. Every one is profoundly realised, with each possessing their own idiosyncratic yet appealing qualities. It is a difficult choice to make but the most endearing character for me is "The Pirate', the man `whose head had not grown up with the rest of his body'. Conscientious, hard-working, a man of simple pleasure (a pleasure that consists of him either showing affection for his dogs, or working towards winning the approval of his friends), the Pirate epitomizes how a humble, honest and largely pious life should be lived, which superbly juxtaposes the lifestyles of the other friends in the group (well, with the exception of Big Joe Portagee :o)) which are as far from pious as one could get.<br/><br/>This is not to say that Danny and his friends never show good intentions at heart. Mr. Steinbeck is masterful at setting his characters on a path of good intention, only for them to either falter, or to manipulate circumstance to meet their own needs. This happens a lot, and more often than not, wine plays a role as either the primary motive or betrayer.<br/><br/>I truly loved reading Tortilla Flat. It is a delightful story, with magnificent characters, and I would consider it to be a work of absolute genius. I never thought it could be possible to be completely captivated by an author on the strength of reading one book, but I can state without fear of contradiction that Mr. John Steinbeck, thanks to Tortilla Flat, has found a rare place in my heart. I look forward to discovering the rest of his collection.
Review by AdonisGuilfoyle
16/06/2015
'I like it,' said Pablo. 'I like it because it hasn't any meaning you can see, and still it does seem to mean something. I can't tell what.' Which sums up 'Tortilla Flat', about a group of shiftless, drunken, philosophising paisano friends in post-World War One California. Not a lot happens, until the end, but each chapter is a sort of moral story in itself. Worth a read.
Review by Ireadthereforeiam
16/06/2015
Steinbeck has created a world here that I have no direct experience of. Homeless alcoholic hobo males. When Danny inherits a house it becomes a hub for the local drifters who all share in its shelter. These guys are so much more than lonely drifters though, they have a camaraderie and sense of loyalty that is rock solid...if it is decided that someone needs wine then the money is found, loaned, stolen, obtained through the sale of stolen goods and it is provided. It is shared and it is enjoyed. The reason it is needed provides the rationalisation for the crimes committed to obtain it. And it is decided pretty much every day that wine is needed.Sometimes, quite often, this rock solid loyalty is bent for the sake of one of the groups own personal need, but there is always a rock solid reason why this must be so. The excuses and reasoning that each character comes up with is pure comedy. But their situation, however happy they appear in it, is really quite dire. It is a sad story, presented in such a way that makes it seem so normal and so inevitable.
Also in the Penguin Modern Classics series | View all