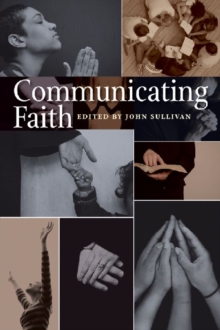 Communicating Faith
Paperback / softback
Description
Communicating faith has always been an essential component of Christian life.
Whether it is Jesus communicating faith through the parables, popes through letters, church leaders through catechisms, or parents through prayer and everyday living, relating faith is as important today as ever. This book enriches appreciation of the many ways that Christian faith is communicated.
It casts light on the sensitivities, skills, and qualities necessary for the effective communication of faith, where justice is done both to the "seed" to be sown and to the "soil" being cultivated.
Contributors draw upon their substantial academic and pastoral experience to highlight key features of the contexts where faith is communicated.
These include the home, parish life, schools, universities, adult education, literature, the arts, and new communications media. Offering perspectives from clergy, religious, lay people, theologians, and practitioners, the book presents a Catholic yet ecumenical approach.
It offers new theoretical reflection and conceptual tools for analyzing and evaluating central features of the tasks inherent in communicating faith, supported by many first-hand examples drawn from several different countries. Among practitioners, the book will be useful for parents, schoolteachers, catechists, clergy, youth ministers, professors of theology, university campus ministers, and diocesan officers responsible for faith development.
ABOUT THE EDITOR: John Sullivan is professor of Christian education at Liverpool Hope University, UK.
He has more than twenty years of professional experience in schools as teacher and administrator, and chief inspector for a Local Education Authority in London, with oversight of 100 schools and colleges.
Published widely on religion and education, his most recent books are Dancing on the Edge: Chaplaincy, Church & Higher Education, and Learning the Language of Faith.
CONTRIBUTORS: Frederick D. Aquino, Jeff Astley, Lieven Boeve, Gareth Byrne, Gavin D'Costa, Michael Edwards, Ralph Gower, Atli Gunnar Jonsson, Victorine Mansanga, Peter McGrail, Stephen J.
McKinney, Frances Orchard, Merylann J. Schuttloffel, Ros Stuart-Buttle, John Sullivan, Raymond Topley, David Torevell, and Clare Watkins. PRAISE FOR THE BOOK: "John Sullivan has an excellent record in producing thought-provoking books on Catholic education.
This latest offering is also thought provoking, but it is far more ambitious in its scope than his previous contributions.
Such a vast topic--communicating faith--is not only complex, but it also provides a multitude of possible areas for exploration.
Sullivan succeeds in bringing together some stimulating pieces by authors from Europe and North America. . . .This book is ambitious in its aims. In the main, it provides a challenging and rewarding read."--Christopher Meehan, British Journal of Religious Education"The book is filled with gems of insight about communicating faith, helpful guidance for those equally passionate about the endeavor, and well articulated analysis of the many challenges it entails today." -- Joseph Stoutzenberger, professor of religious studies, Holy Family University"An essential read for educators at all stages.
The book conveys a genuine enthusiasm for communicating faith resonant with Pope Benedict XVI's conviction that 'there is a need for stronger ecclesial commitment to new evangelization in order to rediscover the joy of believing and the enthusiasm for communicating the faith'" -International Studies in Catholic Education
Information
Format: Paperback / softback
Pages: 408 pages
Publisher: The Catholic University of America Press
Publication Date: 30/01/2011
Category: Christian life & practice
ISBN: 9780813217963