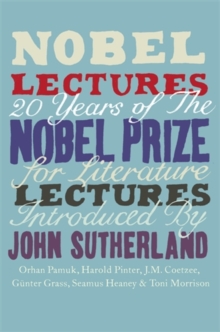 Nobel Lectures : 20 Years of the Nobel Prize for Literature Lectures
Hardback
Description
As the 2007 Nobel Prize for Literature is announced, Icon publish twenty years of powerful lectures from previous winners, introduced by former Booker Prize chairman-of-judges, critic and author John Sutherland.
Here are Nobel lectures by the Literature Laureates from the past twenty years that together offer a glimpse into the inspirations, motivations and passionately-held beliefs of some of the greatest minds in the world of literature.
Mediations on imagination and the process of writing intermingle with polemical discussions of global politics, cultural change and the ongoing influence of the past.
All the writers demonstrate in their essays lyrical beauty and ethical depth; the result is an intelligent and humanistic integrity.
From Harold Pinter, we hear about the nature of truth in art and politics.
Toni Morrison explores the link between language and oppression.
J.M. Coetzee takes an allegorical journey through the mysteries of the creative process, while Nadine Gordimer ponders the ways in which literature can shape the worlds of individual and collective being. Orhan Pamuk's touching 2006 lecture describes how his father inspired him to write.
Nobel Lectures attests to the continuing power of literature to shape the world.