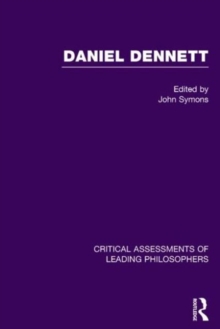 Description
SPECIAL INTRODUCTORY PRICE!(Valid until 3 months after publication)Daniel Dennett has been one of the central voices in the philosophy of mind for at least the past forty years.
Unlike most philosophers of his generation, Dennett's work has resonated far and wide.
It has powerfully influenced the development of cognitive science, robotics, developmental psychology, and artificial intelligence.
Indeed, his work has led to many new lines of inquiry.
For example, he has developed a theory of consciousness which provides an approach to naturalizing mind which circumvents many of the most significant philosophical arguments against the possibility of a scientific explanation of consciousness. The daunting quantity (and variable quality) of literature available on Dennett makes it difficult to discriminate the useful from the tendentious, superficial, and otiose.
Moreover, because no comparable philosopher has had a profound impact across such a wide range of disciplines and on intellectual culture in general, responses to Dennett's philosophy are dispersed across a broad range of scientific, philosophical, and cultural domains.
That is why this new title in the highly regarded Routledge series, Critical Assessments of Leading Philosophers, is so urgently needed.
Edited by John Symons, this new Routledge Major Work is a four-volume collection of the best scholarship on Dennett; the collected materials have been carefully selected from a wide range of academic journals, edited collections, research monographs, and other sources. The tightly focused organization of this collection allows users quickly and easily to access both established and cutting-edge assessments of Dennett's work.
The set is also made for irresistible browsing. With comprehensive introductions to each volume, providing essential background information and relating the various works to each other, Daniel Dennett is destined to be an indispensable resource for research and study.
Free Home Delivery
on all orders
Pick up orders
from local bookshops
Also in the Critical Assessments of Leading Philosophers series | View all