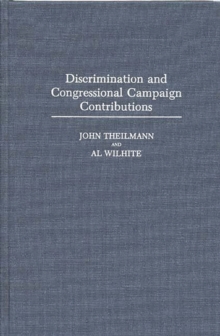 Discrimination and Congressional Campaign Contributions
Hardback
Description
In an interdisciplinary study, John Theilmann and Al Wilhite examine the role of campaign contributions in the election of blacks and women to the U.S.
House of Representatives during the 1980s. The volume provides an historical overview of discrimination and campaign financing, a model of campaign contributions based on rent-seeking paradigm from public choice, and statistical testing of this model. Using an approach that is in part historical/narrative and in part theoretical/statistical, this book begins with a brief discussion of the political position of women and blacks from the early years of the republic to the 1970s.
Chapter two examines the notable political gains made by both groups during the 1970s.
Chapter three provides an overview of the impact of political money through history, and focuses on several explanations of the role of money in congressional elections since the passage of FECA.
The next four chapters are theoretical explorations of campaign decisions linked with empirical measures of the influence of race and gender on these decisions.
Theilmann and Wilhite present a rent-seeking model of the campaign strategy and an examination of both candidate and contributor decisions.
The theoretical perspectives derived from these discussions serve as the basis for analysis of political action contributions, party contributions, and individual contributions.
Finally, the authors return to the question of blacks and women in Congress during the 1980s, as impacted by campaign funding.
Based on their analysis, they engage in some predictions of the future for black and female congressional candidates.
These observations will interest academic audiences in the studies of political science, economics, and race relations, as well as anyone with an interest in race/sexual discrimination and congressional campaign finance reform.
Free Home Delivery
on all orders
Pick up orders
from local bookshops