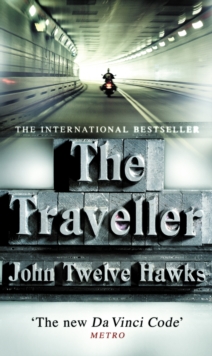 Description
What lies ahead is already here...America is a difficult place to live below the surface.
But Gabriel and Michael Corrigan are trying to do just that.
Since childhood, the brothers have been shaped by the stories that their father has told them about the world in which they live.
After his mysterious disappearance, they have been living 'off the grid' - that is, invisible to the intrusive surveillance networks that monitor our modern lives.
But no-one is as invisible as they would like to believe.
Nathan Boone, a mercenary, has been tasked to hunt down the brothers.
The only person who stands between them and certain death is Maya, a tough young woman playing at leading a normal life.
But her background is anything but normal. She has been trained to fight and survive at whatever cost.
When she is summoned to protect the brothers, she must leave everything behind if she is to succeed...
Information
Format: Paperback
Pages: 608 pages
Publisher: Transworld Publishers Ltd
Publication Date: 01/03/2006
ISBN: 9780552152693
Free Home Delivery
on all orders
Pick up orders
from local bookshops
Reviews
Showing 1 - 2 of 2 reviews.
Review by wyvernfriend
16/06/2015
This is a story very close to the bone with modern survelience techniques and the feeling that your freedom is being traded for same-ness. That we're all being encouraged to live and act like sheep instead of finding something that moves us and being true to ourselves. I'm not as paranoid as the author but I do find myself finding some questions about the path this world is takingThis is a story about some of the powers in the struggle for freedom or virtual slavery. The Tabula or Brethren are on one side. They want order, they want predictable, they dislike randomness. They have managed to get through to another realm via a computer but they need a Traveller to get all the data through so they can improve the order in the world. One of their problems is that they have been systematically killing off the Travellers, so now the pool of candidates is very shallow. In fact it's two brothers with potential, Gabriel and Michael.Gabriel and Michael come from a long line of Travellers. They've been trying to live in the shadows and "off the grid" for years. Michael yearns for normality, stability; Gabriel lives his live for those fleeting moments where he feels at one with the world. Neither of them have any idea what being a Traveller is all about.Maya is a Harlequin. The Harlequins oppose the Brethren and try to keep the Travellers safe, while keeping the world of imagination and choice open. She's been trying to live a normal life over the past few years but she is one of the few Harlequin left who can keep choice open for the two brothers.It's a bit over the top sometimes and the characters occasionally blurred for me. I didn't get a strong feeling of place in any of the cities and the story lagged occasionally. That being said I did find it an interesting read, it reminded me somewhat of White Wolf's Mage Role-Playing Game but without the magic. Instead of Magic it had Astral Travelling. It didn't make me want to rush out and get the sequel but it also didn't make me want to throw it across the room. However he did belabour the point a few times too often and I often felt like I was being talked down to. The post-script did nothing to make me anything but convinced that this guy is a conspiracy nut. Possibly correct, but still a bit of a nut with some pet ideas that he really wants to belabour.
Review by yeremenko
16/06/2015
Clichéd and predictable beyond belief. The Twilight series seems mature and intricate compared to this contrived dud.This shows what marketing and a mysterious penname can do. Rumors are Dan Brown wrote this. Think of Da Vinci code without all that history and comic book characters. Well it isn't even that good. This is niche marketing at its worst. They created a false Internet buzz that turned out to be the publishers about the mystery of this book.You can hear the focus groups planning the story. "Hey let's make the bad brother a corporate wannabe and the good one should be cool and surf or ride a motorcycle or skydive on a motorcycle!"If you are over 14 avoid this.
Also in the The Fourth Realm Trilogy series | View all