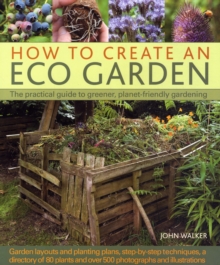 How to Create an Eco Garden : The Practical Guide to Greener, Planet-friendly Gardeneing
Hardback
Description
This is the practical guide to greener, planet-friendly gardening.
It includes garden layouts and planting plans, step-by-step techniques, a directory of 80 plants and over 500 photographs and illustrations.
It shows how to reduce your garden's 'carbon footprint' and create a greener, more ecologically sustainable garden by working with nature.
It includes step-by-step advice for establishing an eco system, controlling weeds, composting with worms, harvesting and storing water, planning a food garden, encouraging backyard wildlife, and landscaping with recycled materials.
Detailed and inspirational 'greenprints' show layouts and planting schemes for city courtyards, food gardens, allotments, dry gardens and rain gardens, as well as how to eco-fit an existing garden.
This title features a fully illustrated directory of 80 plant species chosen for their eco-friendly benefits, from flowers, shrubs and hedging plants to vegetables, tree fruits and herbs. Working in harmony with nature, eco gardeners can create attractive and resilient gardens that reduce our 'carbon footprint', while nurturing vibrant, biologically rich growing spaces that build soil, boost biodiversity and encourage a sense of self-reliance.
Simple and fun projects include making a pond, a log pile and a wildlife hotel, turning a lawn into wildflower meadow, and making an edible green roof.
A fully illustrated directory of 80 plant species describes the best plants for an eco garden, including flowers for attracting beneficial insects, and shrubs that provide winter food for birds.
Information
Format: Hardback
Pages: 160 pages, over 500 colour photographs
Publisher: Anness Publishing
Publication Date: 15/11/2011
Category: Specialized gardening methods
ISBN: 9781903141892
Free Home Delivery
on all orders
Pick up orders
from local bookshops
Reviews
Showing 1 - 2 of 2 reviews.
Review by ruric
16/06/2015
Excellent practical guide to eco & wildlife gardening with lots of photos and illustratiions. "Greenprints" show how to turn what you already have into an ecofriendly garden. Sections on soil care, havesting sunshine & water, and growing fruit & veg. Great sections on ways to boost biodiversity & how to tackle sustainable landscaping. Also some useful lists of ecofriendly plants.
Review by jimll
16/06/2015
Some years ago I started to write a book for a now defunct charity on how we gardeners could "green up" our act. I never finished the book, and really its just as well as John Walker has done a far, far better job with his 2011 book, "How to Create an Eco Garden: The Practical Guide to Greener, Planet-friendly Gardening". This is the book I would have liked to have written but didn't!The text covers all aspects of environmentally friendly gardening, some of which will be familiar to gardeners from other horticultural texts, and some of which are things that most will not necessarily have considered before. For example as well as a few chapters on compost making and soil cultivation, there are, amongst many others, sections on low impact tool choosing, encouraging wildlife and biodiversity on your plot, minimising food miles, eco-friendly container gardening and choosing sustainable hard landscaping materials. These are the sort of topic that may make you think, "Wait, why do I go to the garden centre or DIY store to buy cheap tools from China or stone extracted from quarries in goodness knows where?" And thinking is one of the first and most important steps that people can make on any green journey in their lives. So much we do that is ecologically unsound we do without thinking, without considering the potential impact on the planet, its creatures and our fellow humans.Even for those of us that consider we tread the greener path in our gardening there are new ideas and different takes on existing, well known approaches. For example, many people will have heard about "3 sisters" companion planting for sweetcorn, beans and squashes. Yet John uses a different example of sweetcorn, verbena and buckwheat, which has the advantage of flowers attracting lots of pollinators and other beneficial insects.The book itself is well written as one would expect from John Walker, and beautifully illustrated with hundreds of full colour photographs throughout the work by Colin Leftley. John includes some "green prints" - ideas on how one can make changes to any new or existing garden that you have to make it more wild life friendly, organic and low impact. What's nice is that the example illustrations don't assume you've got several acres to work with - the drawings and plans show the sort of small, urban gardens that so many of us have to work with. Of course if you have got a country estate you can still implement these ideas; you just get to do it on a much grander scale!This book has rapidly gone on my list of vital gardening books. With climate change, extreme weather events and energy price/availability issues, the information held within these pages is something that we need more people to read, understand and act on. We need to strive to make our gardens as green as we can, in both senses of the word "green", and this book will be a great aid to help us achieve that.