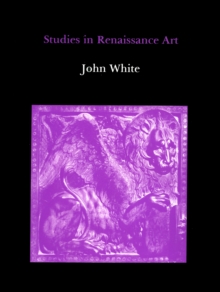 Studies in Renaissance Art
Hardback
Description
Professor White's work on late medieval and Renaissance Italian art needs no introduction.
His early articles on Renaissance perspective led on to a book, The Birth and Rebirth of Pictorial Space, which remains the standard work on the subject.
His subsequent work on the reconstruction of such major works of art as Donatello's Padua altar and Duccio's Maesta has brought the methodology of reconstructing a damaged or altered work of art to a new level of scholarly seriousness.
The present publication forms the first part of a two-volume edition of Professor White's studies which contains a total of two single and three double articles devoted to reconstructions.
Between them they cover the methods, ranging from documentary and physical investigation to iconographic and stylistic analysis, which the author believes should be brought into play in tackling such problems.
The selection of articles for this first volume has been made on the basis of chronology rather than method.
The artists and their works dealt with here belong to the period of the Renaissance.
Since both painting and sculpture are covered equally, the initial article, on the Paragone, the discussion as to primacy among the arts, is particularly appropriate.
The Northern Renaissance is also featured, in the articles on Bruegel.
Additional notes have been added at the end to review the subsequent literature on a number of the works of art dealt with.
Information
Format: Hardback
Pages: 384 pages, 205 illus.
Publisher: Pindar Press
Publication Date: 31/12/1983
Category: Art & Photography
ISBN: 9780907132066