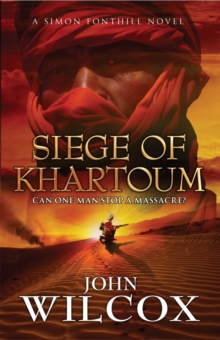 Siege of Khartoum
Paperback
Description
The eyes of the world are on the fate of General Gordon and the English-held Khartoum as it comes under siege, in this latest novel in the thrilling Fonthill series.1884.
Queen Victoria's hero General Gordon is under siege.
Hoards of Dervish warriors, loyal to the Mahdi, the Sudanese warlord and Messiah, are baying for British blood.
With a small army and diminishing supplies, Gordon fears Khartoum will fall.
Ex-captain and one-time subaltern Simon Fonthill is summoned to Cairo on a vital mission.
He must enter the heavily guarded city undetected and make contact with Gordon ahead of the relief force.
Together with comrade '352' Jenkins, Fonthill makes the treacherous journey across the Nile.
But when they're captured by a sadistic Dervish patrol, it seems hope of a British victory is all but lost.
Can Fonthill and Jenkins survive interrogation and save Khartoum...?
Information
Format: Paperback
Pages: 480 pages
Publisher: Headline Publishing Group
Publication Date: 03/09/2009
Category: Historical adventure
ISBN: 9780755345601
Free Home Delivery
on all orders
Pick up orders
from local bookshops
Reviews
Showing 1 - 1 of 1 reviews.
Review by DWWilkin
16/06/2015
John Wilcox does not disappoint. Here in the sixth adventure of Simon Fonthill and Jenkins 352. I read another series recently by a different writer in our Victorian military fiction genre. It is night and day in comparison. Wilcox has pacing and drama down well. He understands the era, as well as the campaigns that the military is involved in. We meet the true historical personalities in a way that makes sense. And we see where there are fools as well. Perhaps the restraint in which we deal with the idiots who are obstacles in the British forces could be handled better. Let Jenkins do what he does well, (Kill the blighters) but then Fonthill shows a governing hand to stop that, and the criminally foolish which we know the British army was riddled with, do he theirs often enough.And we need such foils to add to the drama.We learn a good deal of history about the Mahdi and Gordon of Khartoum as well. The adventure is first rate and the character development continues. This is a series that should you like the latter part of the Victorian Era and Queen Victoria's Little Wars (as Farwell put it) then this is a great series to get and read. Recommend and up for a second read as well.