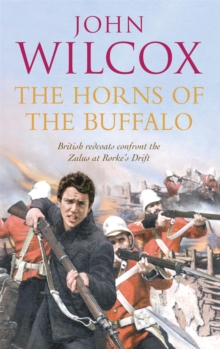 The Horns of the Buffalo
Paperback
Description
In 1879 the redcoats of the British Army are universally regarded as the finest fighting force in the world.
Among them is Lieutenant Simon Fonthill, dispatched to South Africa with much to prove: for Colonel Covington, his former Commanding Officer, has slanderously branded him a coward. In the Cape, tension is high. The Zulus, an independent nation of magnificently militant tribesmen, threaten the colonial government's vision of a united South Africa. And Simon has been chosen for a particularly dangerous mission: to travel deep into Zululand to discover the intentions of the king.
Simon encounters violence and imprisonment before he is faced with his greatest challenge.
Escaping from the massacre at the Battle of Isandlwana, he must warn the tiny garrison at Rorke's Drift of the threat posed by advancing Zulu impis.
He has a chance to prove Covington a liar, but he may pay the ultimate price...
Information
Format: Paperback
Pages: 416 pages
Publisher: Headline Publishing Group
Publication Date: 01/09/2004
Category: War & combat fiction
ISBN: 9780755309832
Free Home Delivery
on all orders
Pick up orders
from local bookshops
Reviews
Showing 1 - 2 of 2 reviews.
Review by BruderBane
16/06/2015
When I found a copy of John Wilcox's "The Horns of the Buffalo" at one of Seattle's Half-Price Book's I was jubilant to say the least. Mr. Wilcox comes recommended by various readers across the web, so much so that I felt I should definitely dive in to his Fonthill series as soon as I could. Imagine my surprise and disappointment when it turned out to be a bore-fest with TV serial storylines, ho-hum action and a lady's "coming of age" thrown in for good measure. As opposed to exciting characters within an African backdrop, Mr. Wilcox's characters were, using two words he oh-so-loved, languid and lugubrious. At the time I purchased Mr. Wilcox's first novel I also acquired two others he's penned. Will I read them? At this time I don't think I will unless some other daring (and reliable) reader suggests otherwise.
Review by whitrichardson
16/06/2015
I enjoyed the historical backdrop and details of the Zulu War, but the story line was a bit cheesy. In addition, John Wilcox's writing is a bit cliche at times. However, it was a quick read filled with some good action scenes that moved the story along. I do own the second book in the series, and will likely pick it up at some point.