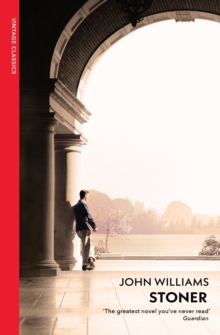 Stoner : A Novel
Paperback
Description
Colum McCann once called Stoner one of the great forgotten novels of the past century, but it seems it is forgotten no longer - in 2013 translations of Stoner began appearing on bestseller lists across Europe.
Forty-eight years after its first, quiet publication in the US, Stoner is finally finding the wide and devoted readership it deserves.
Have you read it yet?William Stoner enters the University of Missouri at nineteen to study agriculture.
A seminar on English literature changes his life, and he never returns to work on his father's farm.
Stoner becomes a teacher. He marries the wrong woman. His life is quiet, and after his death his colleagues remember him rarely. Yet with truthfulness, compassion and intense power, this novel uncovers a story of universal value.
Stoner tells of the conflicts, defeats and victories of the human race that pass unrecorded by history, and reclaims the significance of an individual life.
A reading experience like no other, itself a paean to the power of literature, it is a novel to be savoured.
Information
Format: Paperback
Pages: 320 pages
Publisher: Vintage Publishing
Publication Date: 01/07/2012
ISBN: 9780099561545
Other Formats
EPUB from £4.99
CD-Audio from £16.25
Free Home Delivery
on all orders
Pick up orders
from local bookshops
Reviews
Showing 1 - 5 of 9 reviews.
Previous | Next
Review by riverwillow
16/06/2015
A beautiful, beautiful book. Williams's prose is precise and beautifully poetic and William Stoner is a wonderful creation. Some people think this is a desperately sad novel, but its not, it's the story of an ordinary man, who in his own way lives an extraordinary life. I read this for book group and this was one of the first books that everyone agreed was absolutely wonderful, but for different reasons. Just read it, you won't regret it.
Review by thorold
16/06/2015
This was one of those cases where a friend passes you a book by someone you've never heard of and says "you must read this!" That's not something that happens to me often, so I decided to try the experiment of reading it "blind", i.e. without first trying to find something out about the book and its author. It was certainly an interesting exercise: my guess about the author and date would have been entirely wrong. The Midwestern setting, with its centre of gravity in the twenties and thirties, the slow, uniform, almost agricultural tread of the prose and the fearsomely linear narrative all seemed to be pointing towards a latish work by a writer from the age of American naturalism, a contemporary of Sinclair Lewis or Theodore Dreiser. I would never have guessed it was written in the sixties by someone born in the 1920s. Beyond that, it's definitely an engaging book, but I didn't find reading it a life-changing experience. What it says about the way universities are run seems to be fairly standard, and its message that there is more to fulfilment in life than a successful career and a happy marriage is not exactly a radical idea either, and nor is the author's apparent conviction that all women are either hysterical monsters or perfect, passive lovers. Sometimes it's perhaps not such a bad thing if we overlook and under-appreciate books about overlooked and under-appreciated teachers.
Review by nigeyb
16/06/2015
Good books are absorbing, and the best books allow the reader to completely inhabit that book's world. "Stoner" has a mood that completely engulfed me. A beautiful, compelling, sometimes horrific, haunting, powerful, quietly profound novel that has something to teach us all. Simple, elegant prose takes us to the heart William Stoner's life. His is a very ordinary life. A dirt-poor farm boy from Missouri, born at the end of the nineteenth century, goes to college to study agriculture, and, instead of returning home stays to teach. How can such a simple premise result in such perfect literature? Read it and find out. The story is in turns depressing, uplifting, appalling, tragic, insightful, wise and funny. A remarkable book.
Review by Alastair
16/06/2015
burdened to death with consciousness
Review by Eyejaybee
16/06/2015
I am still mulling over what I thought about this novel. it was certainly very well written though I found it rather depressing. Proper review to follow soon.