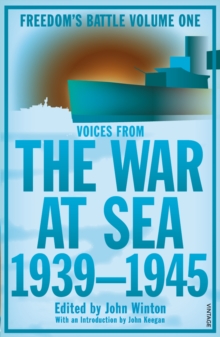 The War At Sea 1939-45 : Freedom's Battle Volume 1
Paperback / softback
Description
An anthology of personal experience selected and edited by John Winton. The Second World War produced hundreds of actions and incidents at sea which were packed with drama and suspense, and which evoked the greatest heroism.
Here is a generous selection of personal experience written by the men and women who were there: in the British and Commonwealth Navies, the Fleet Air Arm, the Merchant Navy, or ashore.
Names which have passed into history - Narvik, Dunkirk, the River Plate, the Bismarck, the Scharnhorst, Crete, Anzio, the Battle of the Atlantic, the Russian convoys - all these and many others are reflected in these gripping eyewitness testimonies. This is the first volume in the unique Freedom's Battle trilogy, which provides intensely vivid accounts of war at sea, in the air and on land.
Far better than any single narrative, the extracts build up a complete picture of the War as it was experienced by the men and women who actually fought in it.
Information
Format: Paperback / softback
Pages: 448 pages, 16 pp b/w photographs
Publisher: Vintage Publishing
Publication Date: 01/09/1994
Category: European history
ISBN: 9781845950828