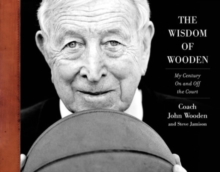 The Wisdom of Wooden: My Century On and Off the Court
Hardback
Description
The Wisdom of Wooden is John Wooden's final book, completed just weeks before his passing in June 2010.
In it he shares his most treasured memories and never-before-seen photographs as he looks back on an extraordinary life on and off the court.Hailed by many as the greatest coach in the history of American sports, John Wooden is as famous for his personal philosophy as he is for his career achievements.
He inspired, guided, and motivated generations of fans with his bestselling books on leadership, values, family, and the true meaning of success.Coach Wooden wrote his final book, The Wisdom of Wooden: My Century On and Off the Court, in the last months before his death.
Filled with his most treasured memories and more than 100 photographs, many never-before seen, it captures a life spent teaching, guiding, and serving others.
Starting with his father's now-famous 7 Point Creed-including "Make Each Day Your Masterpiece," "Help Others," and "Be True to Yourself,"-Coach Wooden affirms the principles to true success that helped him become an All American at Purdue University, a winning coach at Indiana State University, and an iconic sports figure at UCLA.
Yet anyone who knows John Wooden knows his record on the court was only part of the story.
In The Wisdom of Wooden the legendary coach offers readers a rare glimpse not just behind the scenes but inside the man; not just on the court but in the huddles; not just his maxims but his poems, those he wrote and those he loved; not just the people he inspired, but the family, friends, and fans who inspired him; not just the lessons he taught but the lessons he learned; not just what was on his mind but what was in his heart.Ultimately it was the life he lived that served as a model for his greatest lesson of all: a deep commitment to family, friends, and faith-the bedrock values of the man we all called, "Coach."Praise for John Wooden"The Wisdom of Wooden has given me the life that I have . . . Thanks, Coach, for your faith and patience."-Bill Walton "The Wisdom of Wooden is a lifetime of Coach Wooden's ideas on how to live life without sacrificing your moral principles.
His life is a prime example of how this can be done--one that we can all learn from."-Kareem Abdul-Jabbar"John Wooden sets an example for all of us by constantly striving to be the best in every aspect of his life.
Throughout my life, I have found inspiration and direction in the Bible.
Today, I also find inspiration and direction in the words of John Wooden."-Tom Coughlin, Head Coach, New York Giants"One hundred years-what an amazing life.
But here's what's even more amazing about John Wooden and the timeless verities his life has embodied.
One hundred years from now they will still be talking about his accomplishments and his approach."-Bob Costas"There has never been a finer man in American sports than John Wooden, or a finer coach."--Sports Illustrated
Information
Format: Hardback
Pages: 80 pages
Publisher: McGraw-Hill Education - Europe
Publication Date: 29/07/2010
Category: Business & management
ISBN: 9780071751162
Free Home Delivery
on all orders
Pick up orders
from local bookshops