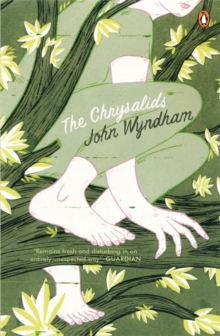 Description
The disturbing post-apocalyptic novel The Chrysalids by John Wyndham, author of The Day of the Triffids and The Kraken Wakes and dramatised on BBC Radio 4.David Strorm's father doesn't approve of Angus Morton's unusually large horses, calling them blasphemies against nature.
Little does he realise that his own son, and his son's cousin Rosalind and their friends, have their own secret abberation which would label them as mutants.
But as David and Rosalind grow older it becomes more difficult to conceal their differences from the village elders. Soon they face a choice: wait for eventual discovery, or flee to the terrifying and mutable Badlands. . . The Chrysalids is a post-nuclear apocalypse story of genetic mutation in a devastated world and explores the lengths the intolerant will go to keep themselves pure.'Perfect timing, astringent humour. . . one of the few authors whose compulsive readability is a compliment to the intelligence' Spectator'Remains fresh and disturbing in an entirely unexpected way' GuardianJohn Wyndham Parkes Lucas Benyon Harris was born in 1903, the son of a barrister.
He tried a number of careers including farming, law, commercial art and advertising, and started writing short stories, intended for sale, in 1925.
From 1930 to 1939 he wrote short stories of various kinds under different names, almost exclusively for American publications, while also writing detective novels.
During the war he was in the Civil Service and then the Army.
In 1946 he went back to writing stories for publication in the USA and decided to try a modified form of science fiction, a form he called 'logical fantasy'.
As John Wyndham he wrote The Day of the Triffids, The Kraken Wakes, The Chrysalids, The Midwich Cuckoos (filmed as Village of the Damned), The Seeds of Time, Trouble with Lichen, The Outward Urge, Consider Her Ways and Others, Web and Chocky.
John Wyndham died in March 1969.
Information
Format: Paperback
Pages: 208 pages
Publisher: Penguin Books Ltd
Publication Date: 07/08/2008
ISBN: 9780141032979
Other Formats
Paperback from £5.59
EPUB from £4.99
Hardback from £9.85
Free Home Delivery
on all orders
Pick up orders
from local bookshops
Reviews
Showing 1 - 5 of 8 reviews.
Previous | Next
Review by hairball
16/06/2015
You gotta love John Wyndham's utter lack of faith in humanity, combined with this <i>tiny</i> spark of hope he can't seem to get rid of--it shines through in both of the books I've read so far. Basic Wyndham synopsis: World ends (due to humanity's hubris), life is awful, people revert to their terrible nature, religious people are worse, but two or three people are okay.Awesome speculative fiction, though. His books are definitely a product of the cold war, and they hold up well fifty years later. I devour them like potato chips.
Review by CBJames
16/06/2015
The Chrysalids by John Wyndham takes the reader to what once was the future and finds there a message all too relevant for today.Written in 1955, The Chrysalids is the third post apocalyptic book by John Wyndham author of Day of the Triffids. While Triffids tells us how the world might end, at the hands of a biological menace probably unleashed accidentally by the Soviets, The Chrysalids takes place long after the fall of civilization, this time caused by nuclear war. Most of the world is left devastated by the war, uninhabitable except by mutated plants and animals, most of them just able to eek out a living along the fringes of the barren lands.Except for several small communities on the island of Labrador where a new form of religious fundamentalism has taken hold, one based on the Bible and on the belief that if man is created in God's image then "accursed is the mutant in the sight of God and man." Newborn children, animals and crops are examined for any physical deviation from the accepted norm and condemned if any are found. No one is allowed to stray from the path without severe consequences, namely forced sterilization and life in the fringes.The story's narrator, David is the son of the local religious patriarch, an unyielding believer in the new Christianity. When David's aunt arrives with a baby that has not passed inspection hoping to hide it with her sister, his father physically casts her out of his home and turns her in to the authorities who take the child away from its mother. David's aunt dies soon after, a probable suicide. So what can David expect when he befriends a young girl who has six toes on each foot? Or when he discovers that he can communicate with seven other children in their village through the use of mental images instead of spoken language? Are all mutations bad? Are they all bad enough to warrant sterilization and life on the fringes?Even if you are not a fan of science fiction there is much to enjoy in The Chrysalids. John Wyndham tells an excellent story. He gradually introduces the more fanciful science fiction elements as he goes, leading us on with the father/son conflict and the story of a societal outcast trying to survive before asking us to believe in telepathy. The book has many memorable characters and raises more than a few issues that are still relevant some 60 years after its initial publication. How many modern readers can identify with a boy who has a secret he cannot tell his family know for fear they will reject him? One way to read The Chrysalids is as a classic narrative of life in the closet and coming out. Another way to read it is as a critique of religious extremism. David's family and his society have made Christianity so narrow minded that many humans are rejected as inhuman. (The Chrysalids could almost be a commentary on contemporary religious fundamentalism.) There is also the issue of just what makes an acceptable child. Today we can test in utero for many conditions that used to remain undetected until after a child was born, sometimes years after. Modern parents are faced with decisions their own parents and grandparents never had to consider at all. In The Chrysalids a mother cannot decide if her child is normal enough to keep-- the decision is made for her by religious authorities--but the question is pertinent to today's society. Remember how controversial it was for Sarah Palin to keep her Down's Syndrome child?When I picked up John Wyndham's book The Chrysalids, I expected to find an entertaining story, but I found much more than a good read. The Chrysalids is a novel that will stay with me for some time. I'd rank it with the best of Octavia Butler's science fiction which uses a futuristic setting to show us what our present is like and to explore what it means to be human.
Review by eleanor_eader
16/06/2015
A small group of children in a post-apocalyptic township find that they have a telepathic ability which, if discovered, would mean they would be considered mutant abominations by their pious community and families. Deviances are dealt with harshly on their farms – irregular crops burned, blasphemous animals killed at birth; shockingly, babies are left to die of exposure if they exhibit even tiny abnormalities; nor is this an uncommon event… an inspector is appointed to the area, and every birth must be validated before it can be acknowledged. When older children are found to be developing differences from the norm, they are sterilised and driven to the Fringes - an area that borders the edges of a centuries-old nuclear devastation.Despite the tension and rather bleak consideration that this is a world that has emerged from the last of our own, <i>The Chrysalids</i> is a fast, easy read, very enjoyable and I particularly appreciate the puritanical feel that Wyndham has given this post-apocalyptic land; their devotion to the 'True Form' of God, and the text which supports it, bring an imagery of witch-burning to the narration and enhances Wyndham's 'humans exist in cycle of intolerance and fear' message.It's not difficult to see why Wyndham's books are classics of the sci-fi genre; despite its deprivations this world and his characters are brilliantly portrayed, the story involving and timeless. Another favourite on my shelf and one to re-read later on.
Review by elliepotten
16/06/2015
This was my first John Wyndham novel and I had no idea what to expect. I wasn't even sure what it was about! I needn't have worried, because it entirely lived up to Wyndham's reputation as a classic science fiction writer. The plot revolves around a group of children living in a dystopian society obsessed with 'God's True Image'. Anyone and anything that is seen to be 'wrong' is immediately stamped out as an agent of the devil. If a field of crops is less than perfect, it is burned. If a cow is malformed in some way, it is killed. And any human found to be different is stripped, sterilized and sent out into the 'Fringes', an area filled with exiled deviants, to live or die as they will. By taking these measures, the people of Labrador hope to appease God and rebuild the incredible society that existed before the Tribulation that turned the Badlands to deadly black lakes of burnt land and wiped out the 'Old People'. These children, who can communicate with a kind of advanced form of telepathy, know it's only a matter of time before their secret deviation is discovered and they'll have to fight for their lives...I found this novel to be beautifully written and deeply thought-provoking. The obsession with the 'right' attributes that make someone human reminded me of the Nazi Aryan race, and was quite disturbing to read. There were elements of religion and philosophy, with characters musing on life and spirituality, and the real meaning of humanity. There were messages of tolerance, friendship and love. And behind all this there was a cracking good post-nuclear-apocalypse science-fiction story. With writing this good and plots this fascinating, this certainly won't be my last Wyndham - I think I might have to loan my houseplants out to someone and read 'The Day of the Triffids' next!
Review by Alan_Dawson
16/06/2015
I first read this book in school, readying for my final exams. Since then i have read it a further two times, because it is just so good. You actually get drawn into the story, especially as it is fully believable. I now own the book and will undoubtedly read it again as i do enjoy the story a lot