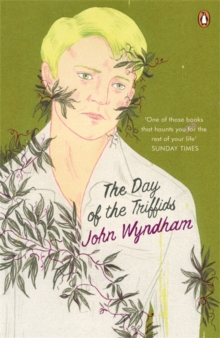 The Day of the Triffids
Paperback
Description
'One of those books that haunts you for the rest of your life' Sunday TimesWhen a freak cosmic event renders most of the Earth's population blind, Bill Masen is one of the lucky few to retain his sight.
The London he walks is crammed with groups of men and women needing help, some ready to prey on those who can still see.
But another menace stalks blind and sighted alike. With nobody to stop their spread the Triffids, mobile plants with lethal stingers and carnivorous appetites, seem set to take control.The Day of the Triffids is perhaps the most famous catastrophe novel of the twentieth century and its startling imagery of desolate streets and lurching, lethal plant life retains its power to haunt today.
Information
Format: Paperback
Pages: 272 pages
Publisher: Penguin Books Ltd
Publication Date: 07/08/2008
Category: Science fiction
ISBN: 9780141033006
Other Formats
Paperback from £6.65
Hardback from £10.65
EPUB from £4.99
eAudiobook MP3 from £4.50
Free Home Delivery
on all orders
Pick up orders
from local bookshops
Reviews
Showing 1 - 4 of 4 reviews.
Review by pinkyslippers
16/06/2015
I can't believe I've never read this classic disaster novel until know. Wyndham's tale of hope at the end of the world as we know it is a well-paced spine-tingling tale of nature's ultimate revenge of man and is a cautionary tale of bioterrorism backfiring on us. Ultimately the book is a tale of human survival against all odds, and how people react in a disaster and turn into their baser selves. I read the book in a weekend and it has stayed with me. If you haven't read this I would highly recommend it.
Review by eleanor_eader
16/06/2015
No matter how many times I come across this story, or in what incarnation, I always find the beginning unutterably creepy – to wake up blind, in a world that has fallen silent, to feel around the edges and discover that it's not just a local condition, but one that spreads out in every direction, gives me, frankly, the heebs.I've just reread this post-apocalyptic jewel sixteen years (ish) since the first time I picked it up. You can't really <i>forget</i> the general plotline of <i>The Day of the Triffids</i>, (cosmic light show, blindness, sighted 'survivors', giant man-eating plants wandering about like psychopathic ents which lie in wait in hedgerows and gardens while the hero tries to figure out which of the myriad plans for the 'future' he encounters are viable) but I had entirely forgotten being delighted by Wyndham's writing style, and by the sociological and philosophical course of the narrator's thoughts and dialogue. And, really, just how well he conjures the air of menace brought about by ambulatory, stinging stalks. I mean, they sound preposterous, but if you saw one you'd run. Something about the fact that they are unreservedly <i>lethal</i>, and possess something that seems to lie between instinct and intelligence. I repeat, <i>heebs</i>.Entirely worth reading. Entirely worth <i>re</i>reading. Just don't expect me to do any gardening for a week or so.
Review by fothpaul
16/06/2015
Very good story, some writing I felt was a little bit long winded. Can't fault the overall plot but there seemed to me to be a few unnecessary parts which did not add much to the story. Definitely worth reading though. Would read more of Wyndhams work.
Review by elliepotten
16/06/2015
"... if it were a choice for survival between a triffid and a blind man, I know which I'd put my money on."This was my second John Wyndham novel (my first being The Chrysalids) and once again I found myself in the grip of an absorbing, well-plotted, complex and all-round interesting story. It didn't scare me stupid - not after the first chapter, at least - like it did some people, but it did make me think and I thought the triffids were fascinating. In actual fact, the plot wasn't at all what I was expecting. I thought there was some kind of alien conspiracy at work, and that the triffids were something akin to the tripod thingies in The War of the Worlds. In actual fact, they are bio-engineered carnivorous plants with long stings that lash out at their victims, delivering a deadly welt to the face or hands. They can also, bizarrely, raise themselves out of the soil and 'walk', lurching across the ground, and even seem to communicate. Probably the biggest surprise for me as I started reading was the fact that the triffids are already a huge presence on earth before the book begins. In some areas they're a menace; in others, large nurseries exploit their potential for scientific and medicinal use, and in affluent countries, properly tethered and with their stings regularly docked, they're a popular garden novelty. The events of the novel don't in themselves create a triffid rampage - they just send them to the top of the food chain...The novel opens with protagonist Bill waking up in a London hospital the night after a brilliant green meteor shower. Not only has he not been able to watch the freak cosmic firework display that the rest of the world's been raving about, thanks to having treatment after a near miss in his job working as a triffid researcher, but the entire hospital seems to have shut down since he fell asleep. It quickly becomes apparent that something's very wrong, and when he plucks up the courage to remove his own eye bandages he realises he's the only person who can still see. All around him, other patients are waking up blind, and chaos ensues as panicking people stumble through the streets. Within hours order has broken down and Bill has already witnessed several suicides by people who have understood the futility of their situation. These early chapters are perhaps the most harrowing of them all, as despair sinks in and people realise that there's no one to help them survive and that at best they're probably going to starve to death in their homes.Aaaand then the triffids begin to arrive, lurching in from the surrounding countryside, breaking out of their nurseries and homing in on their suddenly vulnerable sustenance of choice. For Bill and the companions he acquires, still sighted, well aware of the dangers triffids pose at the best of times, a little care is all that's required. For the blind, there is no such chance of survival. Actually, the triffids are probably less scary than I expected them to be. The stings are instantly lethal, so they're actually quite merciful as far as horror-novel monsters go. For people who are helpless and waiting to die, death by triffid - especially a death that can't be seen coming, can't be anticipated and feared - is almost a better way to go, I'd have said. There are still some horrendous attacks, some really heartbreaking and heartpounding moments, but I should have known better than to think Wyndham would resort to cheap thrills and relentless carnage...Mostly the dystopian element of the novel comes from the blindness, the disintegration of society and the attempt at rebuilding something from the remnants of life as we know it. The triffids are a menace, but they're almost a side-plot a lot of the time, and in some ways that's probably what makes Wyndham's novels more subtle and less scary than some of his sci-fi-horror peers. As in The Chrysalids, the writing is fantastic, the plot is thoughtful, the characters (and their reactions to the crisis) are complex and varied, and the story feels surprisingly modern given that it was first published in 1951; it has that timeless era-vague quality that makes all the best books so enduring. I'm not sure which of these books I've preferred so far, but I still have The Kraken Wakes and The Midwich Cuckoos on my shelves and there are more at the library, so I'm definitely not done with Wyndham yet!