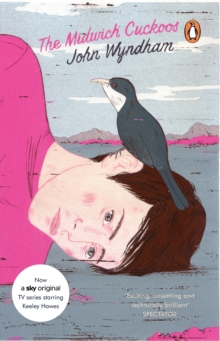 The Midwich Cuckoos
Paperback
Description
In the sleepy English village of Midwich, a mysterious silver object appears and all the inhabitants fall unconscious.
A day later the object is gone and everyone awakens unharmed - except that all the women in the village are discovered to be pregnant.The resultant children of Midwich do not belong to their parents: all are blonde, all are golden eyed.
They grow up too fast and their minds exhibit frightening abilities that give them control over others and brings them into conflict with the villagers just as a chilling realisation dawns on the world outside . . . The Midwich Cuckoos is the classic tale of aliens in our midst, exploring how we respond when confronted by those who are innately superior to us in every conceivable way.
Information
Format: Paperback
Pages: 224 pages
Publisher: Penguin Books Ltd
Publication Date: 07/08/2008
Category: Science fiction
ISBN: 9780141033013
Other Formats
CD-Audio from £9.95
Hardback from £10.65
EPUB from £4.99
eAudiobook MP3 from £6.89
Free Home Delivery
on all orders
Pick up orders
from local bookshops
Reviews
Showing 1 - 5 of 7 reviews.
Previous | Next
Review by atreic
16/06/2015
Another comfort re-read. John Wyndham's sharp pencil sketch of a sleepy English village invaded by alien children is still as much of a riveting page turner as always. It has dated slightly (the views on woman and non middle-class-English-people are not as awesome as the rest of it) but the excellently paced tale and the moral dilemmas it discusses remain fresh.
Review by trueneutral
16/06/2015
This is the second book by John Wyndham I've read and I must say I'm looking forward to reading his other works. I absolutely loved The Day of the Triffids and this book was as interesting, but maybe not as fluid. At some point it tends to blabber on using the voice of Zellaby (who is a very well developed character and full of surprises, up to the end) on various philosophical topics - which are interesting, but the tone I think is a bit outdated.The book is fairly short, so all the developments during the 9 or so years that the Children have been in Midwich are presented quite fast. I loved the ending, which is by no means unpredictable, but the execution was so clean and well thought out that I was a bit surprised.All in all, it is a science-fiction classic and a thought-provoking, engaging and fascinating read.
Review by AnglersRest
16/06/2015
This was the read the August meeting of the local book group. Not my usual read, as I am not overly keen on science fiction, but it was an interesting book and whilst I am glad I read it, I can not say that I would particularly read it again.This is quite a dated book, written in 1957. The storyline is an interesting concept and posed quite a discussion at the group.Set in a village location, a dome is placed across the village. Once the dome is lifted it is established that every female in the village is pregnant. Once the children are aged 9 years it has become apparent that the children are not ordinary children and in fact they pose quite a threat. That threat has to be confronted and there are serious repercussions and consequences of doing so.I did like the suspense factor. How was the issue going to be dealt with? and by whom? The book concludes, but there is no definitive conclusion, thus making way for another book. (A search via Google indicates that Wyndham did write 4 chapters of a sequel which he disbanded). Some of the writing was not especially fluid, but this was written in the late 1950s and whilst it would not be a book of choice it was a good read and a really good discussion followed.
Review by nigeyb
16/06/2015
An intelligent and thought provoking slice of 1950s Cold War-influenced British science fiction. I enjoyed the bourgeoise village life evoked by John Wyndham. That said the book does also show its age: not only are the female characters all underdeveloped, they are generally too distracted, and/or besotted by the Children (the Cuckoos of the book's title), to contribute anything meaningful to the more weighty discussions of the male characters. It is actually the discussions, and there are plenty of them (perhaps too many?), that are what make the book interesting. The village's resident philosopher, Zallaby, spends pages pontificating about the moral implications of the Children. These discourses embrace evolution, politics, anthropology, power and authority, and philosophy. Some of these discussions are a bit overcooked and I felt the story could probably have been told in about half the total word count. The ending, which is signposted a good few pages before the last page, is too neat, and I would have preferred a more ambiguous conclusion. One where the reader is left to consider the implications of the Children reaching maturity and what that might mean for the human race. Instead we end the book very much as we start it with Midwich being, quite possibly, the most boring and uneventful place in the UK. Still, there is much to enjoy, and plenty of food for thought in this sci fi classic.
Review by yougotamber
16/06/2015
I'm only halfway through the book so far but I felt the need to make notes on why I am so impressed so far. It's the book "The Village of The Damned" was based on. I haven't seen the movie in years but I remember it being a creepy horror movie that wasn't anything too special. The book however is far more than that. The author uses this idea for the book as a way to delve into the human psych. Questioning nature versus nurture and many other philosophical ideas that could be attached to this storyline. This is no quick read horror/sci-fi book even though it's only a few hundred pages. I find myself having to go back and read certain parts again to fully understand what the author is trying to get at. However, some could read this book without a pause and find it entertaining enough without digesting the underlying questions but then it would be just another King or Koonz book. People looking for a book with some depth and a creepy plot line will really like this book. If I have anything to add after finishing the book... I'll come back to add more. Ok, finished and my review still stands.