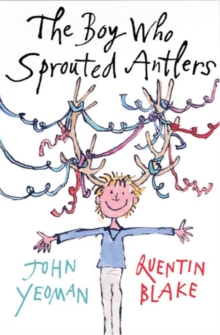 The Boy Who Sprouted Antlers
Paperback
Description
"What about growing horns then?" challenged Melanie. "I will then!" shouted Billy. Immediately he has taken up the challenge to grow horns Billy Dexter passionately wished that he hadn't, after all he could only fail.
However, the next morning Billy's head feels itchy and then no doubt about it, there are bumps on the head.
Within a week the boy has the most splendid head of antlers ever.
Everyone gets used to them - Billy and his friends, his parents and even his teacher and the head - but will the antlers stay for ever, or will Billy find a way to get rid of them?
A charming and humorous story about the power of the mind and daring to be different.
Information
Format:Paperback
Pages:64 pages, illustrations
Publisher:Barn Owl Books, London
Publication Date:01/06/2002
Category:
ISBN:9781903015193