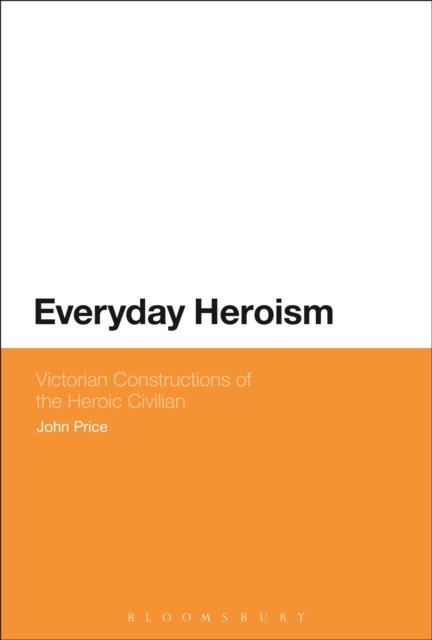 Everyday Heroism: Victorian Constructions of the Heroic Civilian
Paperback / softback
Description
Heroism in the 19th and early 20th centuries is synonymous with military endeavours, imperial adventures and the 'great men of history'.
There was, however, another prominent and influential strand of the idea which has, until now, been largely overlooked.
This book seeks to address this oversight and establish new avenues of study by revealing and examining 'everyday' heroism; acts of life-risking bravery, undertaken by otherwise ordinary individuals, largely in the course of their daily lives and within quotidian surroundings. Adopting an interdisciplinary approach, John Price charts and investigates the growth and development of this important discourse, presenting in-depth case studies of The Albert Medal and the Carnegie Hero Fund alongside a nationwide analysis of heroism monuments and an exploration of radical approaches to the concept.
Unlike its military and imperial counterparts, everyday heroism embraced the heroine and this study reflects that with an examination of female heroism. Discovering why certain individuals or acts were accorded the status of being 'heroic' also provides insights into those that recognized them.
Heroism is a flexible and malleable constellation of ideas, shaped or constructed along different lines by different people, so if you want to identify the characteristics of a group or society, much can be learnt by studying those it holds up as heroic.
Consequently, Everyday Heroism: Victorian Constructions of the Heroic Civilian provides valuable and revealing evidence for a wide range of social and cultural topics including; class, gender, identity, memory, celebrity, and literary and visual culture.
Information
Format:Paperback / softback
Pages:280 pages
Publisher:Bloomsbury Publishing PLC
Publication Date:30/07/2015
Category:
ISBN:9781474247955
Information
Format:Paperback / softback
Pages:280 pages
Publisher:Bloomsbury Publishing PLC
Publication Date:30/07/2015
Category:
ISBN:9781474247955