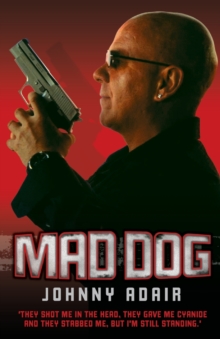 Mad Dog : They Shot Me in the Head, They Gave Me Cyanide and They Stabbed Me, But I'm Still Standing
Paperback / softback
Description
Johnny Adair placed himself at the heart of the Troubles in Northern Ireland.
To some he was a criminal and a terrorist. To others he was an integral part of Belfast's bloody history and in it he reveals its roots in his own uncompromising and compelling style.
Such a struggle should never have to happen, but to understand why it did, you have to read Johnny's account of what it was to be a part of it. Johnny's story goes all the way from the heart of the fighting to his new life in England and Scotland, where he has lived since 2003 after splitting from the UDA.
Dedicated to achieving lasting peace, Adair is a figure who was for years central to the events in Northern Ireland and whose life on the edge makes for a gripping real-life adventure.
Information
Format: Paperback / softback
Pages: 286 pages
Publisher: John Blake Publishing Ltd
Publication Date: 06/07/2009
ISBN: 9781844548194