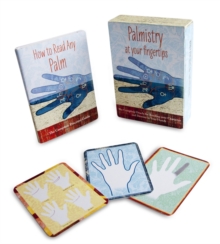 Palmistry at your Fingertips
Hardback
Description
This authoritative book and card kit will provide you with all the tools you need to read the secrets of personality, love life, and destiny in your own palm and those of your family and friends.
The user-friendly book explains the principles of palmistry, detailing the mounts or areas of the palm, which reveal your true character; the shape of your fingers, which can indicate creativity or psychic powers; and the nature of your fingerprint, which can suggest unique talents.
The author also explores in-depth all of the major and minor hand lines.
As an easy-to-use system enabling you to study your own and other people's hands, the kit also features palm-sized cards illustrating the key finger and hand shapes and lines, including the life, heart, head and fate lines.
The back of the card displays a useful summary of each feature significance.
The cards are cross-referenced to pages in the book where you can find more in-depth descriptions and explanations.
The book also contains real-life hand readings and palm prints as examples subjected to analysis.
Free Home Delivery
on all orders
Pick up orders
from local bookshops