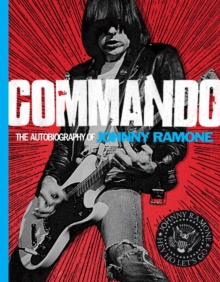 Commando : The Autobiography of Johnny Ramone
Hardback
Description
Raised in Queens, where he worked as a plumber while honing his guitar skills, Johnny Ramone eventually became a founding member of The Ramones, one of the most influential rock bands of all time.
Often called the first punk rock outfit, their status is now legendary.
But despite becoming an international star when he was alive, Johnny never really strayed from his blue-collar roots and attitude.
His bouts of delinquency as a kid might have given way to true discipline when it came to keeping the band in line, but he was truly imbued with the angr y-young-man spirit that would characterise his persona on and off stage.
Johnny was the driving force behind the Ramones, sometimes referred to as a drill sergeant, bringing order and regiment to the band.
This was evident in the speed, accuracy and intensity of their music.
Johnny kept the band focused and moving forward, ultimately securing their place in rock history.
The Ram ones were inducted into the Rock and Roll Hall of Fame in 2002 and two years later, Johnny dies of cancer, outliving the other two founding members and getting the last and complete word.Brutally honest, revealing and touching, this is Johnny Ramones's story and the story of the Ramones from start to finish, told in his own words and on his own terms. In addition to his story, the book will contain Johnny's annotated and graded assessment of the Ramones' albums, a number of eccentric Top Ten Lists; favourite Elvis films, favourite Republicans [Johnny was actually pretty conservative], favourite horror films, pages from his legendary "black books" with notes on concerts, inspirations, anecdotes and scores of black and white and colour photos, many of which have not been published before.
Information
Format: Hardback
Pages: 176 pages, 60 full colour and black and white photographs
Publisher: Abrams
Publication Date: 01/02/2012
Category: Punk, New Wave & Indie
ISBN: 9780810996601
Free Home Delivery
on all orders
Pick up orders
from local bookshops
Reviews
Showing 1 - 3 of 3 reviews.
Review by norinrad10
16/06/2015
Be prepared for a rock biography like none you've read before. Apparently Johnny didn't get into rock and roll for sex and drugs but because he needed a job. This book is very frank and workman like. If you're expecting in depth details like say the Keith Richards biography, its not here. Johnny glosses over the bands history while offering his opinion on a multitude of subjects. An opinion that is always entertaining. A thoroughly entertaining read.
Review by Sullywriter
16/06/2015
The late Johnny Ramone in his own words with lots of great photos, Johnny's top ten lists, and his personal assessments of each Ramones record. A genuine punk was he. Raw, honest, crazy, fast and funny, kinda like a Ramones record.
Review by Caryn.Rose
16/06/2015
I hated it, and then I liked it, and then I loved it. I have read pretty much everything that has been written by or about the Ramones, and was dreading this book. It's not pretty and it's not polished and there are times the writing is just so unbelievably dry I regretted even starting the book. But over time I grew to both like and respect Johnny a lot more than I ever did. I am sure every member of the band had their own take on who did what, but this actually ended up feeling more even-handed than anything else. He gave credit to Dee Dee and Joey while at the same time admitting that they drove him crazy and that they both made him angry. He's also pretty damn honest about his own asshole qualities (of which there are MANY). I think this is mandatory reading if you care about the history of NYC punk rock, or hell, music history in general.