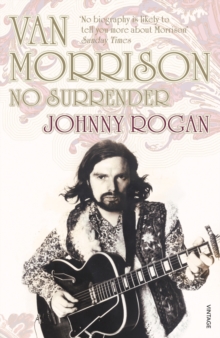 Van Morrison : No Surrender
Paperback
Description
Reclusive, difficult and enigmatic, Van Morrison is a gifted singer-songwriter and an endlessly complicated man.
In Van Morrison: No Surrender, Johnny Rogan has produced a provocative and revelatory biography of the musician, analysing the sense of place in his work and the tortuous journey that took him from local fame in Belfast to international success.
Set against the cultural and political backdrop of Belfast, before, during and after the Troubles, No Surrender offers a unique and penetrating perspective on Morrison's long career and the times that made him. This paperback edition includes a new epilogue.
Information
Format: Paperback
Pages: 672 pages
Publisher: Vintage Publishing
Publication Date: 04/05/2006
Category: Rock & Pop music
ISBN: 9780099431831
Free Home Delivery
on all orders
Pick up orders
from local bookshops
Reviews
Showing 1 - 2 of 2 reviews.
Review by samgb
16/06/2015
Very good attempt at a biography of a difficult man although it did leave me wondering if there was actually any point attempting to characterise such an essentially unknowable person. Contains plenty of fascinating background detail on the Belfast of Morrison's youth but a slightly dubious thread runs through the whole thing linking his personality to that of Unionist fanatic Ian Paisley. No wonder Van didn't like it!
Review by djalchemi
16/06/2015
I'm a big fan of Rogan as a rock biographer and historian. Once again his depth of research is impressive, particularly on the early Belfast years which are covered at length (to give an idea of the emphasis, by half way through Van has only recorded his first solo album, Astral Weeks). But I can't avoid the feeling that is a mean-spirited portrait of its subject, which fails to convey what's special about him. We get Van in the 1970s as a curmudgeon in New York and California, in the '80s as a curmudgeon on a vague spiritual quest, and in the '90s as a curmudgeon flirting and then withdrawing from the Dublin social scene. Few people from any stage of his career have a good word to say about him. Rogan's criticisms of the man all seem to be viewed through the same narrow lens; he is unimpressed by all but two or three of his albums, dismissive of his pretensions as a writer/poet/teacher/mystic. In search of a hook to hang this picture on, Rogan alights on the comparison with Ian Paisley: he sets this up at the beginning of the book, but manifestly fails to make it stick in the rest of the narrative. So Van is a conceited, socially awkward and titanically stubborn curmudgeon... What makes him stand out among other curmudgeons? How has he won such a following, and built such a long career despite pissing off everyone he meets? These are questions that No Surrender leaves begging.