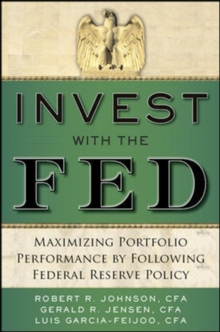 Invest with the Fed: Maximizing Portfolio Performance by Following Federal Reserve Policy
Hardback
Description
A research-based portfolio strategy that uses Fed signals to forecast security market performanceIt's often said that the chairman of the Fed is the second most powerful person in the world, next only to the president of the United States.
Some say the chairman is even more powerful. When Ben Bernanke publicly stated on September 8, 2013, the Fed's intent to continue its policy of quantitative easing, global markets instantly reversed direction from a worrying downward spiral to an exuberant upward surge.
Even POTUS can't do that. The authors of Invest with the Fed take the simple position that correct interpretation of Federal Reserve policy actions leads to better investing decisions.
To this end, they present strategies that will help you design a portfolio that takes Fed policy into account. The result of three decades of research, Invest with the Fed reveals how the nation's bank routinely signals important clues about its future policy--and it explains how you can use these clues to enhance your portfolio performance. Learn all there is to know about the implications that Fed policy changes have for:Value and growth investingBehavioral and EMT approachesAlternative assetsSector rotationInternational stocksHedge fundsFixed income securitiesIf Warren Buffett revealed a nugget of information about one of his future investments, you would likely act upon it.
So why wouldn't you act upon information revealed by the institution that controls the U.S. financial markets?This is the book you need to adjust your investing strategy to take into account advice from the most in fluential financial institution in the world--the U.S.
Federal Reserve. PRAISE FOR INVEST WITH THE FED"This book is packed full of intriguing data on how Fed policy impacts asset class returns and can be a useful resource to any steward of capital." -- ADAM THURGOOD, CFA, Managing Director, HighTower"Invest with the Fed demystifes Federal Reserve policy, shows how different investments are impacted by Fed policies, and provides a practical roadmap for investors to consider Fed policies in their investment strategies.
The book is written in a straightforward practical manner that is appropriate for both novice and experienced investors." -- TOM ROBINSON, CFA, CFP, CAIA, CPA, Managing Director, Americas, CFA Institute"What could be better?
In this book, you'll learn how to make money during periods of expansive Federal Reserve policy and protect your portfolio during periods of tight monetary policy.
Consider this your best-of-both-worlds guide to investing with the Fed." -- ROBERT POWELL, editor of Retirement Weekly and columnist of "MarketWatch""Investors who ignore the ramifications of Fed policy, do so at their own peril, and this text provides effective, holistic techniques for navigating the complicated economic relationships that exist between the Fed and the capital markets.
Yet, it is presented in a clear, understandable and concise format." -- MATT SCANLAN, CFA, President and CEO, RS Investments"Investors finally have a clear and easy-to-follow roadmap for taking advantage of the Federal Reserve's monetary policies.
You'll find out how to maximize your long-term returns and reduce your risk in rising, falling, and stable interest rate environments." -- CHARLES ROTBLUT, CFA, AAII Journal Editor and Vice President for the American Association of Individual Investors
Information
Format: Hardback
Pages: 336 pages
Publisher: McGraw-Hill Education - Europe
Publication Date: 02/03/2015
Category: Business & management
ISBN: 9780071834407
Free Home Delivery
on all orders
Pick up orders
from local bookshops