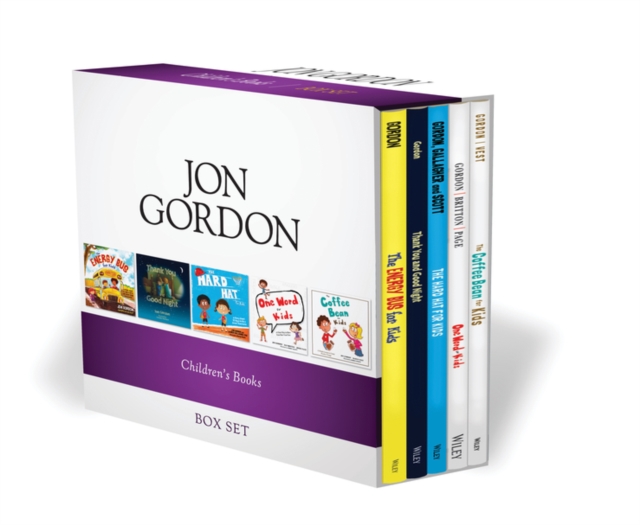 The Jon Gordon Children's Books Box Set
Hardback
Description
Help kids be their best with Jon Gordon's beloved children's books Positive kids grow up to be positive adults.
No one knows this better than Jon Gordon, the bestselling author and inspirational speaker acclaimed for his engaging storytelling and powerful life lessons.
Across 24 books, Gordon has helped parents, mentors, coaches, and teachers around the world encourage and inspire children of all ages. The Jon Gordon Children's Books Box Set teaches kids and adults alike about the value of a positive mindset, teamwork, kindness, thankfulness, friendship, selflessness, and much more.
Packed with colorful illustrations and invaluable insights, this set includes Gordon's entire library of children's books. The Energy Bus for Kids shows children how to overcome negativity, bullying, and everyday challenges—helping them to find their inner motivation and pass on positive energy to others.
Share this illustrated adaptation of Jon Gordon's international bestseller to help kids be their best and enjoy their journey to becoming positive adults. Thank You and Good Night takes children on a fun-filled journey from one perfect moonlit night to the next as they explore the people, places, and things they are thankful for.
This beautifully illustrated book will help make "Thank You" the phrase that brightens any kid's day and helps them get a good night's sleep. The Hard Hat for Kids teaches children how to be a great teammate by living the "We Before Me" philosophy every day.
Adapted from Jon Gordon's bestseller The Hard Hat, this engaging story offers life-changing lessons that will give kids a new outlook on cooperation, friendship, and the selfless nature of true teamwork. One Word for Kids asks, "If you could choose only one word to help you have your best year ever, what would it be?" This delightful story helps children discover their one word—and learn a lot about themselves, what they love, and what is important to them in the process. The Coffee Bean for Kids offers children a simple lesson for becoming the kind of leader who creates positive change in the world.
This insightful, illustrated story shows kids how sharing smiles, kindness, and positive energy can change the environment around them—just like a coffee bean transforms a pot of hot water. Based on the same principles the author has used to drive the success of thousands of top-level leaders at Fortune 500 companies, school districts, nonprofits, professional sports teams, and leading colleges and universities, The Jon Gordon Children's Books Box Set is a vital resource for anyone wanting to fill a child's life with positivity, belief, hope, and encouragement.
Information
Format:Hardback
Pages:Illustrations, unspecified
Publisher:John Wiley & Sons Inc
Publication Date:24/06/2021
Category:
ISBN:9781119802778
Information
Format:Hardback
Pages:Illustrations, unspecified
Publisher:John Wiley & Sons Inc
Publication Date:24/06/2021
Category:
ISBN:9781119802778
Also in the Jon Gordon series | View all