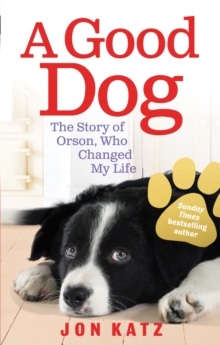 A Good Dog : The Story of Orson, Who Changed My Life
Paperback
Description
When Jon took on a troublesome two-year-old Border Collie in A Dog Year, it turned his sedate life upside down and culminated in a move from suburbia to a rural farm. But the contrary Collie - incredibly loyal but incredibly misbehaved - never settles down.
Jon tries everything, obedience training, changing his name from Devon to Orson, even acupuncture, and it all helps a little, but not enough. Together Jon and Orson chase sheep across high meadows, wade through snow, bask by a roaring stove and struggle to keep faith in each other.
A story of great joy and heartbreak, in A Good Dog Jon faces the most difficult decision any dog lover has to make ...
Information
Format: Paperback
Pages: 256 pages
Publisher: Ebury Publishing
Publication Date: 01/08/2009
Category: Biography: general
ISBN: 9780091932251
Free Home Delivery
on all orders
Pick up orders
from local bookshops
Reviews
Showing 1 - 2 of 2 reviews.
Review by Fence
16/06/2015
We've been on a bit of an "animal-human relationship" kick at work lately. I chose this one at random one afternoon. It is the second book that the author Jon Katz wrote about his life after meeting Devon/Orson, the border collie. he has many others detailing his life with other dogs. But Orson was his "once in a lifetime" dog. The one that changes your life.That, however doesn't mean things go smooth for Katz, or for Orson. He is a troubled animal. With something "broken" in him. He can't really cope with life in New Jersey. So when Katz has the opportunity to buy and run a small farm in the country he leaps at it. He is a writer, location isn't vital to his job, although his wife is still based in the city.But simply changing to a rural environment isn't enough to help Orson deal with his issues. He continues to have "incidents"; nipping at people and animals, bossing the other dogs, becoming over-excited and a danger to himself and to others. This is the story of Katz's attempts to help heal this dog, who while being so negative still brings so much happiness into people's lives.For the first chapter or two of this I wasn't sure I was going to finish it. It seemed, I don't know, a little too opinionated for my tastes. Katz seems to be about to enter a mid-life crisis phase of his life and resents his urban lifestyle. Which is fine, but he comes across as a little too harsh on those who either choose that life, or are forced to live it. But that judgement was too harsh on my part. As I read on it becomes clear that Katz is well aware that his goals are not what everyone else aims at. And without any negative judgements.It is, in many ways, a slightly controversial book. Katz quotes from some of the hostile letters and emails he received after publishing this book. People can be crazy-convinced that they alone know the truth and THE ONE RIGHT WAY to do things that would SOLVE ALL THE PROBLEMS of the world. I can't say that I agree with his decision at the end of this book. But then again, to me, it is only a book. To him it was a dog he loved. And his moral responsibility. I'm sure he made the right decision for him.It is a quick read. And while Katz gives quite a bit of detail about his own life, and the dogs' of course, he skims his family's. Which makes sense and respects their privacy.Overall I'd have to say that I enjoyed this book more than I thought I would. It isn't the tale of a man and the brilliant but troubled dog and how they overcame all obstacles in their path in a saccharine sweet way. So if that's what you are looking for this isn't it. One the other hand if you are looking for a truthful and honest look at what people will go through for their pets, well this is a book for you.
Review by JKoetsier
16/06/2015
This book tells the story of a man who tries to fix a troubled dog. The story is written reasonably OK, the story is definitely impressive, and the ending of the story very well-balanced.