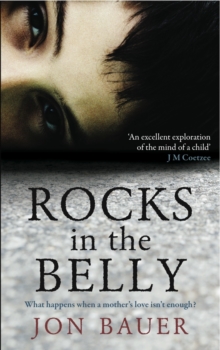 Rocks in the Belly
Paperback
Description
You're eight years old. An only child. You love your parents, but you're convinced you're not enough for your mother because she fosters other people's kids.
You've learnt to cope, just about, with how this makes you feel -- but then a boy called Robert arrives, and he and your Mum seem to connect in a way you never have.
You hate him for it. And her. And one day you do something really bad to teach them both a lesson. At twenty-eight, you return home to face your mother, who is now chronically ill.
Despite the intervening years, you haven't forgiven her - or yourself - for what happened.
Ultimately, though, it's her forgiveness you crave, even after all this time - because you need to know, finally, that you were enough for her.
Information
Format: Paperback
Pages: 304 pages
Publisher: Profile Books Ltd
Publication Date: 01/02/2012
ISBN: 9781846688454
Free Home Delivery
on all orders
Pick up orders
from local bookshops
Reviews
Showing 1 - 4 of 4 reviews.
Review by teresa1953
16/06/2015
This is a truly remarkable book which stirred me to tears.The main character is 28 years old and has arrived at his family home because his mother is dying from brain cancer. His return triggers a recall of his achingly sad childhood. On the surface, his mother has been a remarkable woman who has fostered at least nine boys from disturbed and unhappy homes. The impact on her young son has been traumatic. In his eyes, all her love and attention has been reserved for these foster boys and he is made to feel like an outsider. One particular boy, Robert, is the apple of this foster mother's eye leading to real friction between the two boys.From the start of this novel, the reader is aware that Robert has met with a terrible accident which has left him profoundly disabled. What part his foster brother has played in this event is unknown until later on in the book.Jon Bauer manages to effortlessly switch between the present day, as this clearly unhappy man attempts to nurse his dying mother and back to the past of this boy's childhood. He is not a particularly likeable character, but the profound sadness the author manages to convey to the reader is palpable and I could not help but feel sympathy for him. The writing here is beautiful. Bauer's dedication at the beginning of the book simply says "Carried but never held".....a simple sentence often used to describe stillborn babies, but it is so relevant to this story. In his acknowledgements he says "May this novel be of sustenance for those who carry their childhood still." Being one of those people, I can assure Jon Bauer that he has certainly succeeded in his endeavour. Moreover he helped me understand that "hurt people hurt people."This was one of those books I did not want to end. This lost boy, who just wanted to belong and to be loved by his mother completely stole my heart. At the finish, there is some closure for him and the reader. Moreover, it wasn't until right at the conclusion, that I realised we never know this boy's name. This book was made available to me, prior to publication, for an honest review.
Review by SmithSJ01
16/06/2015
Toying briefly between two stars and three stars, I feel two might just about cover it. I approached this novel full of intrigue and anticipation and sadly felt quite disappointed and deflated. Perhaps this was because there had been an expectation of some horrific tragedy that the eight year old narrator had caused. Sorry but I virtually missed it! I actually thought the tragedies caused by the twenty-eight year old narrator were worse. The chapters change between the same character but it is easy to follow which part in his life he is referring to. I'm painting a negative picture of the novel but what redeems it a little is how the author understands a child that potentially has undiagnosed illnesses and disorders. I felt the ambiguity at which the mother son relationship is played, made it difficult to confirm if the narrator's resentment is justified and because of this it just didn't work as a narrative. It was sad to read in the opening sentence that he is the one that used to say he was a foster child, simply because he just didn't feel he belonged in his own home. From the child's narration his impression of his mother is that he seemed to be unloved and that the foster children received all the care and attention; it was in his dad that he sought comfort and reassurance. I wonder if for the first half of the novel some dreadful tragedy hadn't been mentioned on every other page whether my rating would be so low. However, if the author is going to keep telling us that was the boy had done was so terrible then I shouldn't be left wondering if that was it when I got to it.
Review by Carpe_Librum
16/06/2015
Rocks in the Belly is narrated by an eight year old boy, an only child desperate for his parents' affections. His mother brings in foster boys which incites a fierce and sometimes dark jealousy. Possessive of his mother's attention, her son does whatever he can to monopolise her affections and when Robert joins their family, all this is set to escalate.Originally from the UK, but now an Australian citizen living in Melbourne, it's hard to believe this is Jon Bauer's first novel. I read a sample chapter in Good Reading Magazine a long time ago and I recall it had me hooked right away.The reader never learns the name of the troubled young boy in Rocks in the Belly, however his observations are unique and dark, strangely youthful and sometimes quite funny. Offsetting the humour are unexpected sociopathic thoughts and shocking behaviour that reminded me of movies like The Good Son. Interspersed between the chapters we meet the young boy as an adult, returning to the family home to look after his mother in the very last stages of a terminal illness, her mind almost lost to a brain tumour. The two of them together dance around the shadows of the past slowly revealing to the reader the shocking events of years ago.This is an excellent read and I thoroughly enjoyed the sections narrated by the young boy, they were piercing and unpredictable and definitely kept the pace flying along. I'd definitely recommend Rocks in the Belly by Jon Bauer; the young character is likely to stick with you for a while afterwards.
Review by oldblack
16/06/2015
I'd be the first to admit that I'm no literary expert, but as far as I can see Bauer's effort here is not exactly a literary masterpiece. There's no subtlety, and the family is painted as dysfunctional in the same way as the TV Simpsons. Similarly, the eight year old main character (also appearing as a 28 year old) is really just another Bart Simpson. Bauer presents a series of incidents, each more outrageous and crazy than the previous. None of the characters is at all realistic, to my thinking. I wonder if the boy/man is meant to be really mentally ill, and the bizarre behaviour both as a boy and an adult is meant to demonstrate that to the reader. I couldn't get too emotionally involved with this story because of the weirdness of the characters. Sure, I accept that Bauer is trying to demonstrate that the failure of the boy's family relationship has produced a man who is socially disconnected. He does that, but there's no real intrinsic interest in these cartoon character people, for me anyway. I read right through to the end, mostly because two people who I respect seemed to suggest that the book was in the end a worthwhile read. Helen and Jenny: we'll have to agree to disagree about that!