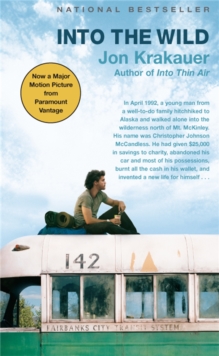 Description
Jon Krakauer's Into the Wild examines the true story of Chris McCandless, a young man, who in 1992 walked deep into the Alaskan wilderness and whose SOS note and emaciated corpse were found four months later, internationally bestselling author Jon Krakauer explores the obsession which leads some people to explore the outer limits of self, leave civilization behind and seek enlightenment through solitude and contact with nature.A 2007 film adaptation of Into the Wild was directed by Sean Penn and starred Emile Hirsch and Kristen Stewart.
Information
Format: Paperback
Pages: 224 pages
Publisher: Pan Macmillan
Publication Date: 07/09/2007
Category: Biography: general
ISBN: 9780330453677
Other Formats
Paperback from £6.65
EPUB from £7.19
Free Home Delivery
on all orders
Pick up orders
from local bookshops
Reviews
Showing 1 - 5 of 8 reviews.
Previous | Next
Review by soylentgreen23
16/06/2015
At first, I wasn't sure if there was a whole book to be made out of the adventure of Christopher McCandless's life. Originally, Krakauer had written an article in a magazine about how McCandless had given up his privileged existence in upper-middleclass suburbia and trekked out to Alaska to live, and die, on the land. In the hands of many lesser writers, that would have been enough - the novelisation would have expanded on the original without adding anything, and would have been written in big type. I've seen it happen.However, I was pleasantly surprised. Krakauer goes a lot further, examining the roots of McCandless's wanderlust, his complicated relationship with his father and family, his desire for space and freedom. He traces the route taken by McCandless across America, and interviews many of those who knew him.McCandless remains something of an enigma. Consumed by the passionate fires of youth, McCandless was intelligent but hardly a poet - had he lived beyond his experiences, it's very possible that he could have become a 20th-century Thoreau or Tolstoy, but he never had the chance. In fact, at times, the stories of the broken-down people McCandless met along the way comes across as more absorbing and more captivating than his own travails.The reactions to McCandless's death are particularly interesting to observe. So too are the digressions that Krakauer takes to explore other men like McCandless, and the author's own obsession with space and wanderlust, and how he grew beyond it, to incorporate the wandering spirit into his own life. I wonder if there are any traces of my own personality in this tale - the book was given to me as a gift, by a friend who knows me better than myself. Could it then be that she saw something that she thought this book could save me from?
Review by bookworm_17
16/06/2015
This is one of my favourite books; it's a sad story but so compelling. Some people might find it hard to sympathize with Chris McCandless - he didn't seem to care much about his own safety; but at the same time many people will admire his bravery. I think a lot of people would love to just disappear and go on adventures across the states but would never actually do it. The author does write about himself a bit too much, but the rest of the book had me gripped.
Review by andy475uk
16/06/2015
Interesting, involving but non-judgmental account of Christopher McCandless and other wilderness explorers. Well written but the left turn into the authors own trip at one point seems to appear from a different book.
Review by nicky_too
16/06/2015
After seeing the film I was left with questions. In some things the film doesn't explain why or how certain things happened. So I bought this book. And I'm not so sure I should have.In the introduction Jon Krakauer writes: "Through most of the book, I have tried - and largely succeeded, I think - to minimize my authorial presence." Well, he didn't succeed. He goes on to warn the reader that he has included some stories of his own youth. That is a very sure way of maximizing one's presence, actually! And it adds nothing. It's two very boring chapters. You might want to skip those, should you pick this book up.The introduction ends with the comforting idea that Jon Krakauer leaves the reader to form his or her own opinion. No, he doesn't!He thinks Chris McCandless is some kind of hero. Or I should say a Hero.Of course I still made up my own mind, but that is beside the point. This is about the book. My questions are answered and I did get some insight into this young man who perished in Alaska. I just don't like the way in which this book is written.
Review by Tropic_of_Cancer
16/06/2015
This was recommended to me by a friend and such a huge disappointment. Maybe if I had read this before I've seen the movie, I would have enjoyed it, but after that wonderful film, I couldn't help but be disappointed with this book.