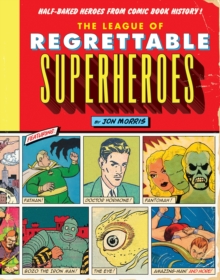 The League Of Regrettable Superheroes
Hardback
Description
A fun, funny, and affectionate look at the strangest superheroes to ever appear in comics, some so hilariously odd that it's hard to believe they were ever published.
Featuring vintage comic book art, with equally colourful commentary from a die-hard comic book blogger and cartoonist, The League of Regrettable Superheroes is a different window into the superhero phenomenon that's become so prevalent in movies, television and pop culture. For every Batman or Spiderman who hit the big time with a blockbuster movie, there are countless failures, also-rans, and D-listers.
Some were shockingly ill-conceived, some were hilariously off-target, and some were justmind-numbingly weird. And now, finally, these long-forgotten heroes will get their day in the sun.
The League of Regrettable Superheroes presents one hundred of the strangest superheroes to ever see print, complete with backstories, vintage art, and colourful commentary from author Jon Morris.
Within these pages, you'll meet heroic characters like Captain Tootsie (Tootsie Roll spokeshero) Bee Man (like Batman, but with bees!), Squirrel Girl (a rare bright spot in comics' darkest hours), Prez (America's groovy teenage president/vampire fighter) and Skateman (roller-skated avenger in a pre-Rollerblade world). The League of Regrettable Superheroes celebrates the artistic train-wrecks that can only happen in the anything-goes world of comics, where a creative misfire can produce entertainingly bizarre results.
Drawing on the entire history of the medium, the book includes characters that haven't seen the light of day in decades, pulling from defunct and long-forgotten comics publishers as well as DC and Marvel.
Author Jon Morris, cartoonist and founder of the comic book blog Gone and Forgotten, provides insight and context, as well as curation, for this astonishing roster of not-ready-for-prime-time heroes.
Information
Format: Hardback
Pages: 256 pages
Publisher: Quirk Books
Publication Date: 02/06/2015
Category: Superheroes
ISBN: 9781594747632
Free Home Delivery
on all orders
Pick up orders
from local bookshops
Reviews
Showing 1 - 3 of 3 reviews.
Review by datrappert
10/11/2015
This book is beautifully put together, but for something like this to really succeed for anyone other than a comic book fanatic, the writing has to be really funny--and this just isn't. Occasionally, the author gets off a good one-liner or two about some of the more ridiculous superheroes, but most of the time, the writing is just so-so, giving us a few facts about the creation, life, and death of these characters. But sometimes even that isn't consistent. The excerpts from the comic books themselves seem a bit random, though some offer a good deal of amusement. The end papers are also entertaining.
Review by TheDivineOomba
27/01/2016
A fun book about regrettable super hero's. Some if them are regrettable in name, others in their powers (I'm looking at you, Dr. Hormone). A lot of them are rather generic designed to be a copy cat of a more popular super hero.As for the writing - it is well researched, well written. The author makes a point of explaining the characters within the time they are written. A few of these superheroes would have actually been interesting if a bit more time was involved in creating the backstory. All in all, A good book on lesser known, often forgotten, always odd, superhero's.
Review by ecataldi
27/01/2016
A cute read, perfect for stocking stuffers, comic fans, and those who aren't apt to pick up books. This little book contains summaries, pictures and quotes from the comic book industries most "regrettable" superheroes. As the introduction states, "We call these second-tier (or lower) superheroes "regrettable," but it's important to remember that none of thesecharacters are inherently bad. Sometimes, the only factor that kept them from succeeding was bad timing, an unstable marketplace, or merely being lost in the crowd."Author Jon Morris explores some of the truly odd, overlooked, and underappreciated superheroes that are now largely forgotten. That cast includes: Doctor Hormone, Lady Satan, Rainbow Boy, Thunderbunny, and more. A quirky, quick, enjoyable read.