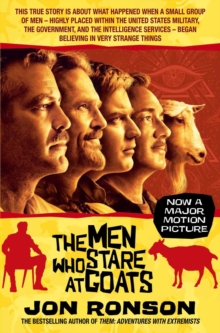 The Men Who Stare at Goats
Paperback
Description
In 1979 a secret unit was established by the US Army.
Defying all known military practice - and indeed the laws of physics - they believed that a soldier could adopt a cloak of invisibility, pass cleanly through walls, and, perhaps most chillingly, kill goats just by staring at them.
They were the First Earth Battalion. And they really weren't joking. What's more, they're back and fighting the War on Terror.
So unbelievable it has to be true - journalist Jon Ronson's Sunday Times bestseller The Men Who Stare at Goats is the real-life account that inspired the film. 'Simultaneously frightening and hilarious' The Times 'Not only a narcotic road trip through the wackier reaches of Bush's war effort, but also an unmissable account of the insanity that has lately been done in our names' Observer
Information
Format: Paperback
Pages: 288 pages
Publisher: Pan Macmillan
Publication Date: 06/11/2009
Category: Terrorism, armed struggle
ISBN: 9780330507707
Other Formats
Paperback from £7.79
EPUB from £7.98
Free Home Delivery
on all orders
Pick up orders
from local bookshops
Reviews
Showing 1 - 5 of 6 reviews.
Previous | Next
Review by BoundTogetherForGood
16/06/2015
I enjoyed this book but it didn't make me laugh as much as I had expected. I suppose I am glad that maybe the government is looking "outside the box" for solutions to things. But I also find it a bit disturbing too. I suppose I will still see the movie since it looked funny...
Review by burningtodd
16/06/2015
This is a very strange book. It seems to have been written by a guy who does not want to trust the military. This is a book filled with anecdotes about the United States military attempting to use mind control, psychic assassination, remote viewing, and other ideas from science fiction in order to help them win wars. From the very beginning this book discredited itself for me because it opens with an interview with Uri Geller.
Review by drneutron
16/06/2015
The Men Who Stare at Goats was not the book I expected it to be. It's billed as a humorous look at research into parapsychology and remote viewing by Army intelligence, and for the first half, it is. It turns out that after Vietnam, a few officers influenced by the human potential and New Age movements in California attempted to bring these ideas into the Army - resulting in the creation of the "First Earth Battalion" manual, a description of a new army where opponents are psychically manipulated into surrender and no weapons are needed. Some results - a general that repeatedly tries and repeatedly fails to walk through walls, remote viewers spying on the Loch Ness Monster, and the attempt to create real Jedi warriors that can kill goats by staring at them.But just like Star Wars, there's a dark side to the Force. About halfway through the book, Ronson digs into the movement away from peaceful research into things like acoustic weaponry used to break prisoners and shows how these ideas were implemented in the Noriega arrest, Abu Ghraib prison and Guantanamo Bay. This is not funny stuff. The Psychological Operations folks treated these situations as laboratories to put into actual experiment all the wild ideas they've been thinking about all these years - leading to the abuses we've been reading about in the papers over the years. The Men Who Stare at Goats is a good book, make no mistake. It's just not quite what it's advertised to be.
Review by isabelx
16/06/2015
Strangely, in fact, whenever I broached the subject of goat staring in my email exchanges with former friends and associates of Echanis, they immediately, on every occasion, stopped emailing me back. I started to think that perhaps I was nuts. This is why, after a while, I began avoiding crazy-sounding words like 'goat' and 'staring' and 'death', and instead asked questions like, 'Do you happen to know whether or not Michael was ever involved attempting to influence livestock from afar?'But even then the email exchanges abruptly halted. Perhaps I had indeed stumbled on a secret so sensitive that nobody wanted to admit to any knowledge of it.Although the film of the same name was based on it, this is a non-fiction book that tells the story of the is author's investigation into the US military's psychic spying and psychological warfare programa. As well tracing some of the people who tried to kill goats (and hamsters!) by staring at them, he looks into remote viewing, the transformation of military personnel into Jedi Warriors, and the development of non-lethal weapons, including a failed attempt at using rapidly solidifying foam to build a wall between some rioters and the target of their wrath and an unexpected use of the Barney the Dinosaur theme tune. Although he doesn't have any luck in tracking down a man named Ron, who apparently reactivated Uri Geller as an American agent after 9/11, as everyone clams up when asked about him, he has more luck with other people who were involved, including a former General who tried repeatedly (but unsuccessfully) to walk through walls. This is generally a fun read, although events take a more serious turn when the author investigates MK-Ultra, and the military's links to the Heaven's Gate suicides and the disastrous events at the Branch Davidians' compound at Waco, and I really don't like the sound of the Predator, a bright yellow plastic weapon that resembles a children's toy.
Review by BruceCoulson
16/06/2015
The Men Who... starts out much like [Them: Adventures in Extremism] in poking fun at a certain small group of military planners who (partially) embraced a whole slew of New Age concepts in an effort to re-vitalize the armed services post Vietnam. But the story takes some very dark turns, linking to the botched raid at Waco, the war crimes at Abu Ghraib, and similar efforts to use unconventional means to break the wills of America's enemies. You may start by laughing at the idea of staring goats to death as a means to defend the United States; but by the end, you'll be wondering just how far those in power will go to achieve an objective.