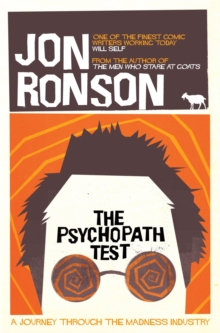 The Psychopath Test : A Journey Through the Madness Industry
Paperback
Description
What if society wasn't fundamentally rational, but was motivated by insanity?
This thought sets Jon Ronson on an utterly compelling adventure into the world of madness. Along the way, Jon meets psychopaths, those whose lives have been touched by madness and those whose job it is to diagnose it, including the influential psychologist who developed the Psychopath Test, from whom Jon learns the art of psychopath-spotting.
A skill which seemingly reveals that madness could indeed be at the heart of everything ...Combining Jon Ronson's trademark humour, charm and investigative incision, The Psychopath Test is both entertaining and honest, unearthing dangerous truths and asking serious questions about how we define normality in a world where we are increasingly judged by our maddest edges.
Information
Format: Paperback
Pages: 304 pages, Illustrations
Publisher: Pan Macmillan
Publication Date: 01/01/2012
Category: Popular psychology
ISBN: 9780330492270
Free Home Delivery
on all orders
Pick up orders
from local bookshops
Reviews
Showing 1 - 5 of 5 reviews.
Review by Iira
16/06/2015
I loved this book! Crazy, hilarious and true.
Review by Opinionated
16/06/2015
Well by now, really you should know what to expect from Jon Ronson. Something light, fluffy, temporarily engaging but ultimately a snack. The non expert view on complex topics. Amusing, superficial, but with its heart ultimately in the right place. Questions asked, but not really answered, as really, they can't be answered. This time Ronson romps through the world of mental illness and its diagnostic frameworks and a disturbing place it is too. But amongst the madness is a serious point to be made. Can you decode psychopathy, or a whole range of other disorders, from a test? Are a whole range of mental disorders really disorders at all, or just eccentricity? Should we be treating eccentricity? Should we be trying to normalise all behaviour? And if psychopathy does exist, do business leaders suffer from it ? (A: Yep, probably. Most of them)It will keep you laughing but you probably wont think about it too much more after you finish it
Review by crdf
16/06/2015
Lovely reading. He goes of on a number of topics in the book dated back year, and connecting the dots so to speak. There are criminals, normal people, media people, corporate people, conspiracy people, some Scientologists and psychologists. A nice soup of all sorts of crazy people. Written in an entertaining way and never knowing what is he up to now. <br/>Basically a good read.
Review by HenriMoreaux
16/06/2015
Having previously read Robert Hare's Without Conscience and Martha Stout's The Sociopath Next Door when Mrs Moreaux came home with Jon Ronson's The Psychopath Test I was intrigued and slotted it in close to the top of the to read pile.It was certainly an enjoyable book, but I would caution people against using it as a source as it is more travel and anecdotal entertainment than an academic review of the mental health industry. That being said, it is firmly in non fiction territory and filled with interesting facts & information. If you've previously read Without Conscience you won't learn anything new per se, but the stories within are both intriguing and at times funny coming across as a Louis Theroux style adventure.Overall, great book but don't treat it like a textbook or you'll be disappointed.
Review by CaroPi
16/06/2015
This is the third book that I read from Jon Ronson. So far my favorite one. Is really enjoyable to read and teach a lot. Maybe is not the best book about the psychopath test or similar cases, but for sure will keep you inside. Highly recommended.