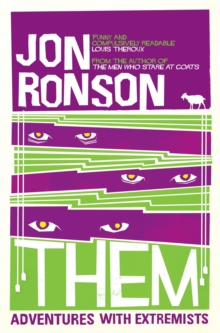 Them : Adventures with Extremists
Paperback
Description
THEM began as a book about different kinds of extremists, but after Jon had got to know some of them -- Islamic fundamentalists, neo-Nazis, Ku Klux Klansmen -- he found that they had one oddly similar belief: that a tiny, shadowy elite rule the world from a secret room.
In THEM, Jon sets out, with the help of the extremists, to locate that room.
The journey is as creepy as it is comic, and along the way Jon is chased by men in dark glasses, unmasked as a Jew in the middle of a Jihad training camp, and witnesses international CEOs and politicians participate in a bizarre pagan ritual in the forests of northern California.
THEM is a fascinating and entertaining exploration of extremism, in which Jon learns some alarming things about the looking-glass world of 'them' and 'us'.
Are the extremists on to something? Or has Jon become one of THEM?
Information
Format: Paperback
Pages: 352 pages
Publisher: Pan Macmillan
Publication Date: 01/02/2002
ISBN: 9780330375467
Free Home Delivery
on all orders
Pick up orders
from local bookshops
Reviews
Showing 1 - 4 of 4 reviews.
Review by seldombites
16/06/2015
This was certainly an interesting and enlightening read. From the dangerous to the harmless to the just plain wacky, Jon Ronson gives a humourous insight into those the world call 'extremist'. By spending time with these people and quoting their own words and deeds, Jon shows that that not all 'extremists' are as extreme as they are portrayed, and sometimes those who do the accusing are, themselves, 'extreme'. This book is definitely worth the read.
Review by roblong
16/06/2015
Good fun, took it on a weekend break and it was great for a holiday read. Basically a book version of Louis Theroux's Weird Weekends (Theroux is a fan). Not going to change your life, but it's always worth taking time to boggle at how bonkers significant numbers of our fellow men and women are.
Review by Miro
16/06/2015
The title of Ronson's book "Them" immediately begs the question of who is "Us".He shows the many fault lines in capitalist western multicultural societies and follows the various "us and thems" of the modern world, particularly the labelled extremists, opposing a supposed New World Order.The book plays for laughs in the practical hassles of being an extremist, such as Omar Bakri's helium filled black Jihad balloons that wouldn't take off from Trafalgar Square (cards too heavy) or Klansmen struggling not to say the "N" word, but at the same time it morphs into a reflection on the injustices inflicted by both sides, particularly in the last chapter, "A Clearing in the Forest". He infiltrates the Bohemian Grove Bilderberg meeting with a group of right wing conspiracy theorists and sees the same strange things that they do but rightly insists that it is just the burning of "Dull Care" so that some old executives can better enjoy their summer holiday. Reading anything more into it risks the fabrications that led to the Ruby Ridge (Randy Weaver) tragedy.As you would expect, there is a strong Jewish theme in the book which Ronson deals with quite fairly. There isn't of course any organised Jewish policy to take over the world but its interesting that he never says, " As an English person I felt that ...." (he was born in England and has an English passport), but he does frequently say, " As a Jewish person I ....." which shows which identity is uppermost in his mind and which doesn't hold out much hope the disappearance of us and them thinking. Multiculturalism encourages "us" and "them" ideas rather than a general national and cultural loyalty which may be why multicultural societies have a tendency to collapse. Ronson Illustrates the fault lines but obviously has little interest in a higher loyalty at the national level.
Review by CaroPi
16/06/2015
Ronson writes about extremist putting himself in the most neutral way as possible. as the book unfold itself he uncovers some myths of conspiracy theories in a pretty good way. His writing just keep you going till the end. Highly recommended