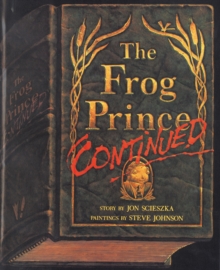 The Frog Prince Continued
Paperback
Description
After the Princess kissed the frog, he turned into a handsome prince and they lived happily ever after... or "did they?" The Princess can't stand the Prince's froggy habits - the way he hops around on the furniture, or sneaks off to the lily pond.
The Prince is unhappy, too, and decides that it would be best if he were changed back to a frog.
But finding a witch who will do the job is harder than he expects.
They all seem to have other spells in mind...
Information
Format: Paperback
Pages: 32 pages
Publisher: Penguin Books Ltd
Publication Date: 29/10/1992
Category: Picture books
ISBN: 9780140542851
Free Home Delivery
on all orders
Pick up orders
from local bookshops
Reviews
Showing 1 - 5 of 7 reviews.
Previous | Next
Review by t1bclasslibrary
16/06/2015
The Frog Prince is not happy because his princess is mean to him, she's not happy because he's retained his froggy ways. He goes in search of a better life, and ends up spending a night as a carriage. After that, his princess doesn't seem too bad, so he returns, kisses her, and suddenly they're both frogs!
Review by burningtodd
16/06/2015
A children's book I read on a whim. Actually quite clever and entertaining. Incorporates a lot of different fairy tales. Interesting book.
Review by rebecca8
16/06/2015
I loved this new twist on an old classic! The illustrations were magnificently done and tell an entire new story of their own. This book gives the reader a way to relate to the story in a much more concrete way through it's casual conversation like narration and everyday dialogue. Love, love, love!
Review by KellyLPickett
16/06/2015
In this book, we get to see what happens after the " ever after". After years of marriage, the Frog Prince and his Princess hit a rough spot and the prince decides that he would be better off being turned back into a frog. So he runs into the forrest looking for a witch. He first comes upon the witch who cast the spell on Sleeping Beauty, then the witch with the poison apple given to Snow White, then stumbles upon the Ginger Bread house and witch waiting for Hansel and Gretel, and finally Cinderella's fairy godmother who tried to turn him int a frog, but instead he became a carriage. But luckily at the stroke of midnight that spell was broken. At the end of his search for someone who would turn him back into a frog, he realizes that back with the princess is where he really wanted to be. When he finds his way back home the princess was so happy to see him again that they kiss and both turn into frogs... and they lived happily ever after.This is a fun read for young children because it incorporates aspects from all the favorite fairy tales.
Review by root.katy
16/06/2015
Humorous story about what happens after the princess kisses the frog. Several other fairy tale references.