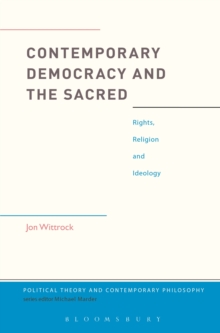 Contemporary Democracy and the Sacred : Rights, Religion and Ideology
Paperback / softback
Description
Debates on the impact of religious traditions upon secular politics have raged throughout the last century and continue today.
Exposing the ambiguity of secularity in political life, Jon Wittrock investigates the contemporary relevance of the scared beyond established religious communities and within wider civic society.
In the context of globalization, characterized by the spread of capitalist commodification and new technologies of transportation and communication, determining the legitimacy of democratic nation-states is particularly urgent.
Questioning ontological challenges to democracy, this book confronts the public narratives, symbols and rituals of the political domain.
It analyses modern scholarship on the impact of eschatological figures of thought on government and political ideologies, what hopes there are for universal rights or justice, and the "public worship" of contemporary democracies.
Bridging the analytical and continental sides of the philosophical divide, this book draws upon conceptual analysis as well as phenomenology and deconstruction.
It advocates neither a left- nor a right-wing political approach, but seeks to outline what political secularization could and should mean.
Information
Format: Paperback / softback
Pages: 192 pages
Publisher: Bloomsbury Publishing PLC
Publication Date: 23/01/2020
Category: Social & political philosophy
ISBN: 9781350146662
Also in the Political Theory and Contemporary Philosophy series | View all