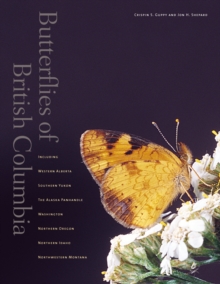 Butterflies of British Columbia : Including Western Alberta, Southern Yukon, the Alaska Panhandle, Washington, Northern Oregon, Northern Idaho, and Northwestern Montana
Hardback
Description
Butterflies are found everywhere in British Columbia, from balcony planter boxes in the city to the vast, unexplored expanses of boreal forest and mountains across the north, and from coastal bogs and wild ocean shorelines to the deserts of the southern interior.
The total known fauna of 187 species of butterflies in B.C. is by far the largest and most diverse in Canada. Butterflies of British Columbia summarizes all available information on the butterflies of B.C.
The 187 species and 264 subspecies of butterflies known from B.C., as well as 9 additional hypothetical species, are discussed with descriptions of identifying features, immature stages, larval foodplants, biology and life history, range and habitat, and conservation status.
In addition, descriptions are provided for 11 new subspecies.
Each species treatment also contains maps of the northwestern North American distribution, colour photographs of adults of all species and subspecies, and flight season graphs. The book includes an extensive general introduction to the study of butterflies, containing chapters on the history of butterfly study in B.C., the post-glacial colonization of B.C. by butterflies, the effects of European colonization on the fauna, butterfly conservation, butterfly gardening, ecology, morphology, and biology. Butterflies of British Columbia provides butterfly watchers, naturalists, and biologists with an overview of the fascinating butterfly fauna of B.C. and adjacent areas. It can be used by naturalists to identify all the butterfly species and subspecies in B.C. and adjacent areas and includes a wide range of information about both butterflies in general and individual species.
There is also much original information in the book that scientists will find invaluable, especially the description of 11 new subspecies and a complete reassessment of the taxonomy of the species.
Information
Format: Hardback
Pages: 414 pages
Publisher: University of British Columbia Press
Publication Date: 15/03/2001
Category: Reference works
ISBN: 9780774808095
Free Home Delivery
on all orders
Pick up orders
from local bookshops