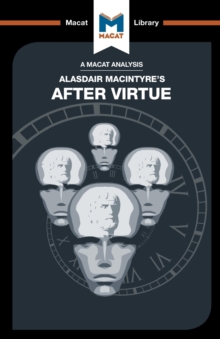 An Analysis of Alasdair MacIntyre's After Virtue
Paperback / softback
Description
Alasdair MacIntyre's 1981 After Virtue was a ground-breaking contribution to modern moral philosophy.
Dissatisfied with the major trends in the moral philosophy of his time, MacIntyre argued that modern moral discourse had no real rational basis.
Instead, he suggested, if one wanted to build a rational theory for morality and moral actions, one would have to go all the way back to Aristotle.
To build his arguments - which are widely acknowledged to be as important as they are complex - MacIntyre relies on two critical thinking skills above all others: evaluation and interpretation. The primary goal of evaluation is to judge the strength or weakness of arguments, asking how acceptable a given line of reasoning is, and how adequate it is to the situation.
In After Virtue, MacIntyre applies incisive evaluation skills to major positions and figures in moral philosophy one after the other - showing how and why Aristotle's template remains a stronger way of considering moral questions.
Throughout this process, MacIntyre also relies on his interpretative skills.
As MacIntyre knows, clarifying meanings, questioning definitions, and laying down definitions of his key terms is as vital to advancing his arguments as it is to evaluating those of other philosophers.
Information
Format: Paperback / softback
Pages: 102 pages
Publisher: Macat International Limited
Publication Date: 15/07/2017
Category: Philosophy
ISBN: 9781912127795
Other Formats
PDF from £23.76
EPUB from £23.76
Hardback from £19.45
Also in the The Macat Library series | View all