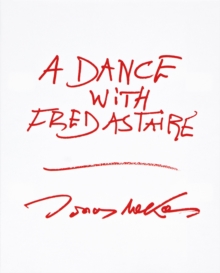 A Dance with Fred Astaire
Paperback / softback
Description
A Dance with Fred Astaire is an extraordinary collection of anecdotes and rare ephemera featuring a dizzying cast of cultural icons both underground and mainstream, both obscure and celebrated.
Memories and diary entries, conversations and insights into his work sit alongside collages of beautifully reproduced postcards, newspaper cuttings, film negatives, lists, posters and photographs, envelopes and letters, book covers, telegrams, cartoons and doodles.
Mekas has kept and archived the artifacts of his life as a cultural touchstone down to the minutiae, all of which is brought together here in the form of a unique and fascinating scrapbook of a life lived with the highest artistic commitment. "Jonas is a true hero of the underground and a radical of the first degree-a shape-shifter and time-fucker... he sees things that others can't... his cinema is a cinema of memory and soul and air and fire.
There is no one else like him. His films will live forever."-Harmony Korine, The Guardian
Information
Format: Paperback / softback
Pages: 464 pages
Publisher: Anthology Editions
Publication Date: 10/01/2017
Category: Film, TV & radio
ISBN: 9781944860097