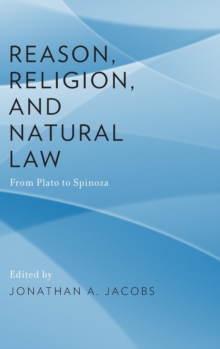 Reason, Religion, and Natural Law : From Plato to Spinoza
Hardback
Description
This edited volume examines the ways in which theological considerations have figured in natural law theorizing, from Plato to Spinoza.
Theological considerations have long had a pronounced role in Catholic natural law theories, but have not been seriously examined from a wider perspective.
The contributors to this volume take a more inclusive view of the relation between conceptions of natural law and theistic claims and principles.
They do not jointly defend one particular thematic claim, but articulate diverse ways in which natural law has both been understood and related to theistic claims.
In addition to exploring Plato and the Stoics, the volume also looks at medieval Jewish thought, the thought of Aquinas, Scotus, and Ockham, and the ways in which Spinoza's thought includes resonances of earlier views and intimations of later developments.
Taken as a whole, these essays enlarge the scope of the discussion of natural law through study of how the naturalness of natural law has often been related to theses about the divine.
The latter are often crucial elements of natural lawtheorizing, having an integral role in accounting for the metaethical status and ethical bindingness of natural law.
At the same time, the question of the relation between natural law and God - and the relation between natural law and divine command - has been addressed in a multiplicity of ways by keyfigures throughout the history of natural law theorizing, and these essays accord them the explanatory significance they deserve.
Information
Format: Hardback
Pages: 304 pages
Publisher: Oxford University Press Inc
Publication Date: 15/09/2012
Category: History of Western philosophy
ISBN: 9780199767175
Free Home Delivery
on all orders
Pick up orders
from local bookshops