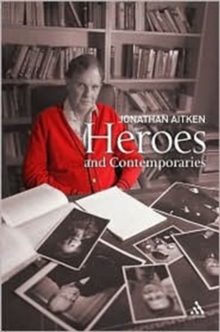 Heroes and Contemporaries
Hardback
Description
Jonathan Aitken was for many years at the heart of British political life.
A cabinet minister who was often mentioned as a future prime minister, he worked closely with many of the key figures in the nation's political and social life.
In this new book Aitken, has written perceptive profiles of a dozen key people and brings his own understanding to their characters, their strengths and their flaws.
Jonathan Aitken fell from power and grace after a celebrated trial in which we was convicted of perjury and sent to gaol.
Particular interest therefore will focus on his portrait of George Carman QC who led the case for the prosecution on behalf of "The Guardian" newspaper and had Aitken successfully convicted.
But the book starts with a portrait of Lord Beaverbrook his great uncle who founded the Aitken dynasty of newspaper owners, politicians and public figures.
There are portraits of Aitken's own political contemporaries - Michael Portillo, Michael Howard, Alan Clark and a chapter that will compel the interest of many will be Aitken's description and judgement on the personality and character of Jeffrey Archer. In the manner of Winston Churchill's book "Great Contemporaries", Aitken profiles combine personal insights, anecdotes and historical judgements.
Information
Format: Hardback
Pages: 320 pages
Publisher: Bloomsbury Publishing PLC
Publication Date: 30/05/2006
ISBN: 9780826478337
Free Home Delivery
on all orders
Pick up orders
from local bookshops