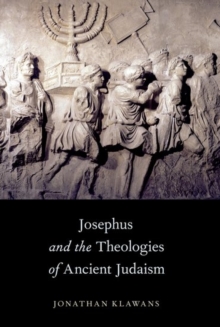 Josephus and the Theologies of Ancient Judaism
Paperback / softback
Description
Though considered one of the most important informants about Judaism in the first century CE, the Jewish historian Flavius Josephus's testimony is often overlooked or downplayed.
Jonathan Klawans's Josephus and the Theologies of Ancient Judaism reexamines Josephus's descriptions of sectarian disagreements concerning determinism and free will, the afterlife, and scriptural authority.
In each case, Josephus's testimony is analyzed in light of his works'general concerns as well as relevant biblical, rabbinic, and Dead Sea texts.
Many scholars today argue that ancient Jewish sectarian disputes revolved primarily or even exclusively around matters of ritual law, such as calendar, cultic practices, or priestly succession.
Josephus, however, indicates that the Pharisees, Sadducees, and Essenes disagreed about matters of theology, such as afterlife and determinism.
Similarly, many scholars today argue that ancient Judaism was thrust into a theological crisis in the wake of the destruction of the second temple in 70 CE, yetJosephus's works indicate that Jews were readily able to make sense of the catastrophe in light of biblical precedents and contemporary beliefs.
Without denying the importance of Jewish law-and recognizing Josephus's embellishments and exaggerations-Josephus and the Theologies of Ancient Judaism calls for a renewed focus on Josephus's testimony, and models an approach to ancient Judaism that gives theological questions a deserved place alongside matters of legal concern.
Ancient Jewish theology was indeed significant, diverse, and sufficiently robust to respond to the crisis of its day.
Information
Format: Paperback / softback
Pages: 400 pages
Publisher: Oxford University Press Inc
Publication Date: 19/01/2017
Category: The Early Church
ISBN: 9780190646189
Free Home Delivery
on all orders
Pick up orders
from local bookshops