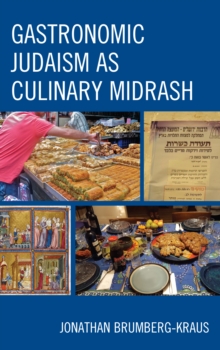 Gastronomic Judaism as Culinary Midrash
Hardback
Description
This book is about what makes food Jewish, or better, who and how one makes food Jewish.
Making food Jewish is to negotiate between the local, regional, and now global foods available to eat and the portable Jewish taste preferences Jews have inherited from their sacred texts and calendars.
What makes Jewish food "Jewish," and what makes Jewish eating practices continually viable and meaningful are not fixed dietary rules and norms, but rather culinary interpretations and adaptations of them to new times and places - culinary midrash.
Jewish cuisine is a fusion of interactions, a reflection of displacement, and intentional positioning and re-positioning vis a vis sacred texts, old and new lands, Jewish and non-Jewish neighbors, old and new "family" combinations, re-imaginings of our personal ethnic, gender, and other identities.
Jonathan Brumberg-Kraus questions Jewish identity in particular, and identity generally as something fixed, stable, and singular, and unintentional.
Jewish food choices are situational, often temporary, expressions of Jewish identity.
It addresses the tension between what Jewish "authoritative" textual sources and their proponents say is Jewish food and Jewish eating, and what Jews actually eat.
So while discussing connections between ancient religious texts and modern Jewish food preferences, this book does not stop there.
Using examples from his experience, Brumberg-Kraus describes the improvisational characteristics of gastronomic Judaism as the interplay of texts, tastes, artifacts, and everyday practices: not only in the classic sacred texts, but also in Jewish cookbooks and internet blogs on Jewish home cooking; seasonal intensification of "Jewish" food choices (e.g., latkes at Chanukah or keeping kosher for Passover); "safe treif;" the fusion/cultural appropriation of diasporic, "Biblical", and Palestinian foods in new Israeli cuisine; and the impact of the environmentalist "New Jewish Food movement" on contemporary Jewish food choices and identity.
Information
Format: Hardback
Pages: 220 pages, 2 Tables, unspecified; 15 Halftones, black and white; 1 Illustrations, black and white
Publisher: Lexington Books
Publication Date: 29/10/2018
Category: History of religion
ISBN: 9781498579063
Also by Jonathan Brumberg-Kraus