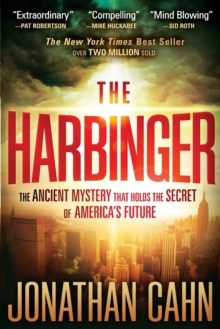 Free Home Delivery
on all orders
Pick up orders
from local bookshops
Reviews
Showing 1 - 5 of 8 reviews.
Previous | Next
Review by dccab73
16/06/2015
This was an excellent book! The book is "Fictional" although based upon biblical scripture found in Isaiah 9:10. A writer unknowingly has an encounter with a prophet. The prophet provides the main character, Nouriel with nine seals or harbingers (warnings) of future calamities. The harbingers describe the destruction (or God's judgment) of ancient Israel because they turned away from God and refused to repent. As a result of their refusal to turn back to God, they were destroyed. The prophet shows Nouriel how the same mistakes that Israel made, mainly falling away from God and refusing to repent, is now happening to America and it started on 9/11. The harbingers was an eye-opening book in which I could not put down. Although it is supposed to be fictional, it is based on real scripture and events! Cahn also encourages the reader to check for themselves by giving notes at the back of the book to show his sources and citings. This book is a MAJOR WARNING to the U.S. It is uncanny how Israel lived at the time of their destruction and how we as Americans are living the same way now. As I read the book, I was in complete disbelief and awe about the harbingers possibly awaiting America. This is a must read for EVERYONE!!!!
Review by Willie3
16/06/2015
This is scary stuff. A tale of the fall of God's chosen kingdom Israel centuries ago, and how America is walking the same exact path to destruction. WE are doing this by not just turning our backs to God, but virtually outlawing He who gave us this great country. EVERYONE needs to read, and heed, this book's warning.Thank you to Mr. Cahn for bringing the message.
Review by sadiekaycarver
16/06/2015
This is a book that everyone should read. It is an account of true events, written as a narrative. The facts given are easy to check, which I admit, I did. It is quite mind blowing what is shared in this book. The connection between modern day America and Biblical prophesy is astounding. More than once I found the hairs on the back of my neck standing up! I have already recommended to my family and friends, this book. As I said before, everyone should read this and see if they can explain away all of the things Jonathan Cahn has discovered!
Review by Kristelh
16/06/2015
Jonathan Cahn is a Messianic Jewish Rabbi author. This book is about a journalist who has an encounter with a mysterious man and is introduced to 9 harbingers or warnings. These warnings are taken from Isaiah 9:10, <i>Our land lies in ruins now, but we will rebuild it better than before. We will replace the borken bricks with cut stone, the fallen sycamore trees with cedars.</i>. The warnings are for Isreal but the Mr Cahn is tying it to the United States and specifically to 9-11. My thoughts. I often dislike it when specific scriptures for the nation of Isreal are claimed for the US. So right away I was on the defensive. I must say though that it was interesting how Cahn showed how the scripture from Isaiah does fit with the activities around 9-11. The book really wasn't a novel. It was fictionalized prophecy. The author was using the format of fiction to get people to read his lecture or sermon on the prophetic message for the US. It was not well written and I think it was even worse as an audible. It was interesting.
Review by ResAliens
16/06/2015
Stilted dialog (and mostly setting-less at that) along with a veiled storyline, this "end times" novel is a misapplication of Isaiah 9:10 to the events of 9/11. Too bad for the author that the prophetic verse in question wasn't 9:11, that would have made his case stronger. Not.