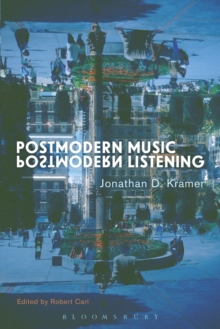 Postmodern Music, Postmodern Listening
Hardback
Description
Kramer was one of the most visionary musical thinkers of the second half of the 20th century.
In his The Time of Music, he approached the idea of the many different ways that time itself is articulated musically.
This book has become influential among composers, theorists, and aestheticians.
Now, in his almost completed text written before his untimely death in 2004, he examines the concept of postmodernism in music.
Kramer created a series of markers by which we can identify postmodern works.
He suggests that the postmodern project actually creates a radically different relationship between the composer and listener.
Written with wit, precision, and at times playfully subverting traditional tropes to make a very serious point about this difference, Postmodern Music, Postmodern Listening leads us to a strongly grounded intellectual basis for stylistic description and an intuitive sensibility of what postmodernism in music entails.
Postmodern Music, Postmodern Listening is an examination of how musical postmodernism is not just a style or movement, but a fundamental shift in the relationship between composer and listener.
The result is a multifaceted and provocative look at a critical turning point in music history, one whose implications we are only just beginning to understand.
Information
Format: Hardback
Pages: 400 pages
Publisher: Bloomsbury Publishing Plc
Publication Date: 11/08/2016
Category: Theory of music & musicology
ISBN: 9781501306020
Free Home Delivery
on all orders
Pick up orders
from local bookshops