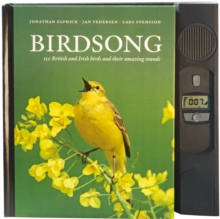 Description
At last it is possible to listen to the amazing variety of birdsong that enriches our environment simply by opening this book.
Delve into the absorbing text and beautiful photographs of each of the 150 birds whilst listening to their songs and calls.
Among many others, the sounds you will hear at the touch of a button include the cries of birds of prey like the Red Kite, Osprey and Peregrine Falcon as well as the dramatic mewing or barking cries of several species of gulls that can be found both on our coasts and in the centre of towns.
The recordings include the songs and calls of much-loved garden birds, such as the Blackbird, Song Thrush, Robin, Wren and Blue Tit as well as the sounds of many wonderful migrants: the call of the Cuckoo that heralds the arrival of spring, the piercing cries of the Swifts that arrive later, the distinctive sounds of the winter-visiting Redwing and Fieldfare. The recordings also include sounds that communicate a desire to mate or challenge a territorial rival: the rattling bursts of Woodpeckers as they drum their beaks rapidly against a hollow tree-trunk, or the strange bleating sound made by the Snipe's outer tail feathers as it hurtles earthwards in its display flight.
Concise descriptions are given of each species as well as fascinating nuggets of information.
Did you know that both sexes of Robin sing almost all year, that the Nightingale sings by day as well as at night, and the Great Tit holds the record for the number of different songs and calls - over 50 - it produces?
With stunning colour photographs of each species, accessible and authoritative text and a unique sound module, this rich source of wildlife knowledge can be enjoyed at home or outdoors.
Information
Format: Hardback
Pages: 256 pages, Over 300 colour illustrations
Publisher: Quadrille Publishing Ltd
Publication Date: 01/03/2012
Category: Wildlife: birds & birdwatching
ISBN: 9781849491341
Other Formats
Mixed media product from £14.85
Free Home Delivery
on all orders
Pick up orders
from local bookshops
Reviews
Showing 1 - 2 of 2 reviews.
Review by presto
16/06/2015
After a very brief introduction which includes among other things the purpose of bird song and an explanation of bird plumage, this book gets straight down to business looking at each bird individually. Most entries are allocated a page with a half page photograph of the bird and half page of descriptive text, in a good number of cases the entry covers a double page with a full page photograph and a page of text along with an additional small illustration. The very readable text includes a description of the bird's appearance, its song and its habitat. The photographs are of a good standard, typically with the bird shown clearly against an out of focus background; all pictures are in full colour.Then we come to real point of this publication. Across the top of each page is one or more brief titles: call, alarm call, song, warning call, wing sound etc, and then there is one or more numbers. To the right of the book and as an extension to the back cover is the player. By entering the appropriate number on the small LCD screen and pressing the play button one hears the chosen bird sound; and the sound quality is quite good considering the size of the set up.This really is a delight, the book alone is well worth having for its lucid text and fine photographs, but to have the bird songs and sounds so easily at hand is a small wonder. In the past I have bought CDs of bird song, but they have never proved satisfactory mainly because it was always so difficult to tie the song to the correct bird, with this there is no question about that, and you have the page with the photograph and text right in front of you too - you can readily associate sound with the bird. There are 150 birds catalogued here, from the common garden birds to those more rarely, and perhaps for many of us in reality, possibly never encountered.This is a substantial publication, a quite heavy book measuring 28cm or 11" square and with a sturdy hard cover. The player fits neatly down the side of the book, and comes complete with three AAA batteries. Altogether a marvellous idea beautifully executed.
Review by the.ken.petersen
16/06/2015
They say that the best ideas are the simplest. This book proves the point. I have never seen a book like this, and yet why not? A few minutes thought should have put the idea into my own head but, I confess that it didn't.So, what is so clever about this book? It covers 150 British and Irish birds and, opening it at any page will show a fairly standard bird book layout: a good, clear colour photograph of the bird, sketches of plumage variations and a few paragraphs of well researched information about same. Nothing unusual there, but at the top of each page is a three digit number; select this on an attached LCD screen and press a button - the bird sings out to the reader/listener.I am one of those people who are reasonably interested in birds but do not spend my life glued to a pair of binoculars, surrounded by geeks. I can tell a blackbird from a sparrow hawk, but get confused by some of those little brown jobbies. I worked out for myself that a little knowledge of the noise that they emit would be useful and have purchased several birdsong CD's. The better of these come with a leaflet giving a picture of each bird but, I find that I listen to the blackbird, get sidetracked, and next thing that I know, the zebra finch is chirruping away and I have missed everything in between. The simple system of this book, using one of those little computer chappies that make a young child's Thomas the Tank Engine book delight its owner by going, "Chuff-chuff", putting the reader in control. The recordings are surprisingly clear for such a reproductive unit and walking with my dogs the first morning after getting this book, the sounds of an idyllic country morning already meant more to me.I would imagine that the fully fledged ornithologist might be a little insulted to receive this tome, the birds are of the common variety, but for a youngster setting out on the trail of 'geekhood', this would be ideal. Although the reading thereof should not phase the average twelve year old, the book is not presented in a patronising style and so, as a man of more than (oh, alright, considerably more than) fifty summers, I too can also enthuse about its qualities. I was pleased to see that the playback unit works on standard batteries which may be easily replaced once my over enthusiastic attempts to fill my house with birdsong have worn out the included set. This book jumps to the front of my, admittedly modest, collection of bird books: it is more fun AND more useful than the rest put together - now excuse me, I think I hear a Great Crested Grebe calling me.