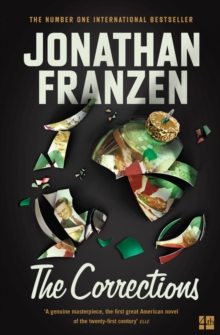 The Corrections
Paperback
Description
`Intelligent, compellingly readable, funny and above all generous spirited, it is a rare thing, a modern novel with both head and heart' Daily Mail`Funny and deeply sad, large-hearted and merciless, The Corrections is a testament to the range and depth of pleasures great fiction affords' David Foster WallaceAfter fifty years as a wife and mother, Enid Lambert is ready to have some fun.
Unfortunately her husband, Alfred, is losing his sanity, and their children have long since fled for the catastrophes of their own lives.
As Alfred's condition worsens and the Lamberts are forced to face their secrets and failures, Enid sets her heart on one last family Christmas.Bringing the old world of civic virtue and sexual inhibition into violent collision with the era of hands-off parenting, do-it-yourself mental healthcare and globalised greed, `The Corrections' confirms Jonathan Franzen as one of the most brilliant interpreters of the American soul.
Information
Format: Paperback
Pages: 672 pages
Publisher: HarperCollins Publishers
Publication Date: 01/07/2007
ISBN: 9780007232444
Other Formats
EPUB from £1.99
Hardback from £23.65
Paperback from £7.69
eAudiobook MP3 from £18.44
Free Home Delivery
on all orders
Pick up orders
from local bookshops
Reviews
Showing 1 - 4 of 4 reviews.
Review by fist
16/06/2015
It took me a while before I could apply the title to the story of this average dysfunctional family. "Corrections" can be simple mark-ups in a text, but can also refer to a drop in share value when the stock market recovers from a bubble and reassesses the real value of a company. In this book, the five members of this family each go through such a significant change in self-perception and in the relationship with their romantic partner(s), each character arguably ending up truer to one's ideal self. As the pater familias declines from pitiless mental clarity into loving dementia (poignantly described by the author in harrowing detail), his wife tentatively leaves a life of self-delusion for well-adjusted realism. All three siblings extricate themselves from doomed romantic relationships, and fail in their jobs, some more spectacularly than others. In the end, the equilibrium in the family is reset, as the entire family has redefined its mutual relationships and has accepted the father's eventual demise.The chronologically fragmented structure seems a bit belaboured at times but all in all this complexity adds to the book's appeal. The author has a great writing style and the story is developed at a brisk pace, with a delicate eye for how relationships can disintegrate. The prose is lively with insightful sentences and vivid metaphors, so much so that occasional "look, mama, no hands" excesses (such as describing the colour of the sky using the colours of a rotating bird) are quickly forgiven. The turd episodes did jar a bit, and the author seemed to have a temporary inexplicable obsession with scalp smells halfway through the book that was a bit offputting. There is a little lull around the middle when a side cast of characters needs to be elaborately introduced, but as mentioned before, it is so beautifully and insightfully written that as a reader one doesn't mind the sidestep. Ambitious endeavour, and very well executed.
Review by SimoneA
16/06/2015
I wanted to read this book to see why it was discussed so much, so when I could borrow it, I immediately did. The Corrections tells the story of a family from the perspective of each of the family members: the father (who has Parkinson's disease), mother, two brothers, and the sister. All family members have psychological problems; they are all slightly (or very) depressed. That is also my main problem with this book: the characters are depressing, the story is depressing, and there is hardly any redemption to make up for the negativity. Especially during the first half of the book, I kept wondering why I was reading it at all. Further into the book, I forgot to wonder that, because I wanted to know how the story would end and because it is a very well written book. You can almost see the characters, feel their frustration, and almost understand some of their issues. So my conclusion about this book that it is a well written but very depressing book, which you should only read if you can handle a lot of negativity.
Review by anna_acoria
16/06/2015
Did not like the style at all, hard to distinguish reality at times.
Review by scodenton
16/06/2015
Normally when I start writing a review, I at least know if I enjoyed the book. The Corrections has me bemused however, as I think I enjoyed it, whilst taking a dislike to how Jonathan Franzen mischievously described the families emerging problems in a way that constantly makes you think: "Is this happening in my family?" "I think I'm ok, but now I've read this, I might need to get my head examined, just in case...". And so on. <br/><br/>Bear with the slow start, would be my advice, as I found it worth the long read.