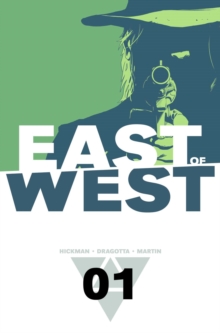 East of West Volume 1: The Promise
Paperback
Description
This is the world. It is not the one we wanted, but it is the one wedeserved.
The Four Horsemen of the Apocalypse roam the Earth, signaling the EndTimes for humanity, and our best hope for life, lies in DEATH!
Information
Format: Paperback
Pages: 96 pages
Publisher: Image Comics
Publication Date: 24/09/2013
Category: Science fiction
ISBN: 9781607067702
Free Home Delivery
on all orders
Pick up orders
from local bookshops
Reviews
Showing 1 - 5 of 5 reviews.
Review by TStarnes
16/06/2015
When I was sent this trade for review I was very excited because I have never read a Western comic. All the titles I read are superheroes, gods, devils, angels, sci-fi and magic. So I was a little bit bemused when I opened this comic to three adolescents being 'birthed' from inside a magic circle. Fortunately only a few pages in it became apparent that I had the wrong impression all the time as this is an almost steam punk style western set in an equivalent but different modern day. This is the beauty of blind reviews as I have no preconceived ideas of what the comic will be about and therefore I can give a truly unbiased opinion.I have to hand it to the writer, normally reading speech bubbles with 'accents' written in gets really old really quickly, however there is just the right amount of inflection to really make me hear that accent, without making it hard to read. I would love to be able to name the accent, but being from Old Blighty I would probably just embarrass myself. However if it comes through strongly with me, I expect anyone who is very used to hearing that accent would read it even more clearly than I do.It is very hard to review a trade without giving away some spoilers. I have discovered that with individual issues you tend to be able to go up to about page 7 or 8 without spoiling the comic as up to that point was already spoiled by the teasers or the cover. With a trade such as this which evolves and grows throughout, never quite giving you all the information you need to understand the story it is hard to give any form of plot without ruining half the book. At its core this story breaks down to the idea of the four Horsemen, given bodies, in a world slightly in the future of ours where slightly different events took place than did on our world. The United States is not merely the USA, it is the entire world, ruled over by seven individuals. At some point they conspired to separate Death from the other horsemen and now those rejuvenated children seek their former partner to bring final apocalypse to the world.There is some wonderful borrowed iconography in this book. The Black Tower is clearly reminiscent of Star Wars and the moment where Palpatine's shuttle docks with the Death Star. The White Tower, while looking like a massive trigger button, also has a very Fifth Element/Star Wars feel about it with the rows of flying cars around it. I am certain if my knowledge of Western films extended beyond brief moments of my mother watching them on Saturday afternoons then I would see them in the moments around the campfires. It is a really clever use of homage that does not make the comic feel too much of a copy of other ideas, but at the same time draws upon our knowledge of them to remove the necessity to explain things further.Disclaimer: This book was received this book for free in exchange for an honest review. This does not affect my opinion of the book or the content of my review.
Review by BenjaminHahn
16/06/2015
It's hard to describe this comic series. It is part speculative history, politics, science fiction, horror, with a nice dose of biblical prophecy thrown in. The art is great, the flow is great, the sense of unexplained mystery is kept alive throughout. Doom permeates every page. Hope is extremely limited. I find it very compelling and I will keep following it.
Review by jasonli
16/06/2015
"East of West Volume 1" is set in a universe where the Four Horsemen of the Apocalypse roam as magical beings who are, with the help of some humans, trying to bring about the apocalypse. The story is centered around the character of Death, who has defected and decides against the apocalypse.Cast as a sci-fi epic, "East of West" suffers from an overuse of melodramatic dialogue. Characters routinely stride in an out of scenes with manly swagger (even the female characters), with rarely any room for pause, and it is very, very violent throughout.
Review by jaddington
16/06/2015
This was the third venture into my BBC. (Bossy Book Challenge). Of the three this was my least favorite. I am not saying I didn't enjoy this, but I ask, is this a story one is supposed to "enjoy" or one to make us "think"? I feel its the latter. I thought about this in the middle of my yoga class, the visuals are not conducive to calming yoga practice. But I could not help thinking about it. I enjoyed alternative history aspect a lot. I enjoyed the Old West meets Technology. It was a perfect blend. It is a violent book. The images of gore and senseless violence made me feel uncomfortable. I hope anyone would be uncomfortable. In that aspect we begin to touch upon reality. I thought the artwork was excellent. I don't want to give the story away, but the 4 Horseman bit is....not where I thought we were going to go. I am not saying its a bad thing. Trust me, I like a good Apocalypse.I am left intrigued. I may search out the second, just to see what happens in the story. For me this is about the story, not about becoming attached to any characters. I am not sure if there are any characters to be attached to for that matter. This might be a book to read when we have 22 hours of daylight and not 3.5.
Review by questbird
16/06/2015
I get a bit sick of invulnerable men in white suits in comics. (I'm looking at you Planetary). This fantasy looks like a bit of a mashup of Post-apocalyptic cowboy science-fiction. There's a future history of America with seven stereotypical nations representing racial groups. There's some monstrous riders of the apocalypse running around. And there's Death, the aforementioned white-suited guy, who has gone AWOL from his apocayptic brethren and is looking for some revenge for...something.