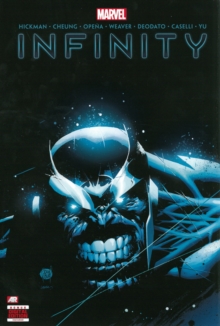 Information
Format: Hardback
Pages: 632 pages, 1 Illustrations, unspecified
Publisher: Marvel Comics
Publication Date: 18/02/2014
Category: Superheroes
ISBN: 9780785184225
Other Formats
Paperback from £9.49
Hardback from £14.75
Free Home Delivery
on all orders
Pick up orders
from local bookshops
Reviews
Showing 1 - 2 of 2 reviews.
Review by jshillingford
27/08/2015
I have not been enjoying Hickman's run on Avengers and New Avengers. The incursion storyline, wherein other reality Earths are crashing into each other so that "everything dies," is actually pretty boring. It amounts to the Illuminati making bombs to potentially destroy a world that is set to collide with "ours" all the while Captain America and the Avengers race around the planet being too late or unable to change anything. All the activity is futile. So, I approached Infinity with mixed feelings. I hoped the incursion storyline would be resolved but was afraid it would be more boring talk about how they can't do anything to stop it. I was wrong on both counts.Unfortunately, the incursion storyline will continue and recent announcements by Marvel indicate it will end with the upcoming main event, Battleworld. So, the Illuminati continue to wax on about how doing what is necessary will destroy their souls. However, Infinity managed to be entertaining because it introduced a new (old) enemy for the rest of the Avengers to contend with.The ancient race of Builders is on its way to Earth and they are laying waste to civilizations, Empires, along the way. When the Avengers intercept distress calls from the Shi'ar, they head out in to space to confront the approaching fleet before it reaches home. Iron Man stays behind to prepare defenses in case the Avengers fail; his real purpose is to monitor and stop incursions (which Cap and the rest are unaware of). While the heroes are away, Thanos decides to attack and enslave Earth. And of course, he has an ulterior motive also!A lot of plotlines overlap and run concurrently through the story, which kept me engaged. Further, the Builder fleet is so formidable it takes the combined efforts of the Shi'ar, Spartax, Brood, Kree and more to even challenge it. There are many epic battle sequences, but also drastic casualties. More than once, it looks as if the Avengers might only attain a Pyrrhic victory, except that Captain America is an unparalleled strategist. It was great to see the Avengers in peak form, showcasing what makes each of them special against unbeatable odds.The downsides of this event is that it was essentially meaningless. Thanos and the Builders are nothing compared to the Incursions (and a host of other ancient species that Black Swan mindlessly rattles off) and this victory won't stop the universe from ending. *sigh* Overall, I enjoyed this mostly because it was a breath of fresh air after the stagnation of the flagship series. Recommended.
Review by MeditationesMartini
16/06/2015
Oh, I get it! The Marvel big summer event now is just a movie treatment! For a movie treatment, this was pretty fucking entertaining, but for a comicbook epic it's no Dark Phoenix or Kree–Skrull War despite having a lot of the same dudes. Oh, and three different characters use the word "very" as an intensifier, as in "You have saved so very many lives," "Enjoy your last breaths. You have so very few of them left," within like three pages. I just used it today in another review and the first time it is satisfying, but thrice is like Jonathan Hickman-->Jonathan Hackman, obvs.